Warzone 2 perk trick gives players free UAVs for whole game
We know we're all having quite a bit of fun running around Al Mazrah looking for Golden Skulls and battling the Jailer in the new 2v2 Gulag experience, but let's not pretend Warzone 2 is a perfect Battle Royale game. There are still quite a few issues that need to be ironed out – like this Warzone 2 money glitch that lets you pocket $1.3 million or this Warzone 2 airship hack – and one of them is a lesser-known trick that actually lets you get free Warzone 2 UAV pings for a full Battle Royale game. However, it may actually be a legitimate feature – which makes this even more exciting.
First highlighted by Call of Duty content creator 'Metaphor' and further explained by Warzone wizard 'JGOD', Warzone 2 players can actually use the Bird's Eye perk to get – and we're quoting JGOD – "a UAV anytime one is called across the map". That means when someone triggers a UAV in your Battle Royale lobby, you get the benefits.
This doesn't just trigger when players use UAV killstreaks either. This actually triggers when players use UAV Towers as well. So if you get access to this odd trick early in your game – whether solo or in a team – you're looking at quite a few free UAV pings. We know making sure you have the best Warzone 2 weapons in your inventory is the best way to improve your chances, but this certainly won't hurt.
If you want to take advantage of this unusual perk before we see it appear in the next set of Warzone 2 patch notes, you'll need to get yourself a loadout – and that means tackling one of Al Mazrah's Strongholds.
Once you've cleared one of these, you'll gain access to the cargo via a supply crate that should be marked on your map. Here you'll want to make sure you choose the default loadout named Scout – which has the Bird's Eye perk in it.
As you can see in JGOD's video below, he makes it clear that this is not going to work with your Custom Loadouts – even if they have a benefit pack with Bird's Eye in it. We can't explain why, but it looks like Custom Loadouts in Warzone 2 is… kinda broken. But aside from making sure you pick the right loadout, it's as easy as hitting a Stronghold position. You just need to make sure that you are using the right one of the best Warzone 2perk packs available.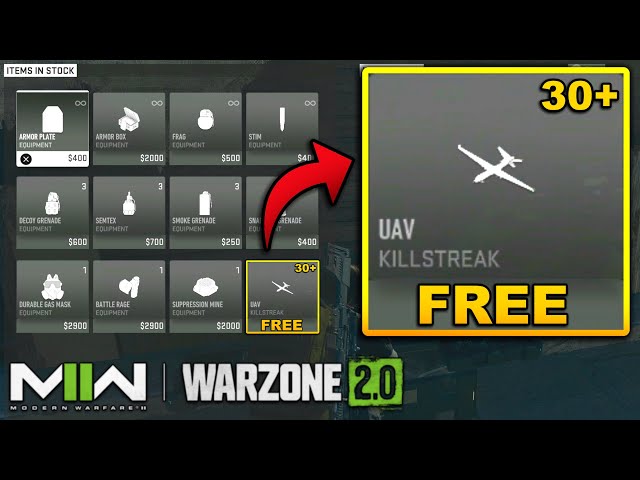 But that's how you can cheat your way into releasing UAVs in Warzone 2 – at least for now. If you want to take advantage of this and improve your chances even more, make sure you check that you are using the best Warzone 2 settings and the best Warzone 2 FOV options available. These will help you in the long run; we have a funny feeling this UAV trick won't be around much longer.