2022 looked set to be an interesting year for food delivery as Uber Eats reported over LKR 82 million in tips to its delivery partners during the year. The figure was outlined in the company's latest Uber cravings report for Sri Lanka which provided a glimpse of what consumer behavior was like in 2022.
2022 Uber Eats cravings
While 82 million is remarkable in size, a closer look at the number paints a slightly different picture. As of December 2022, Uber Eats Sri Lanka accounted for more than 15,000 delivery partners. This corresponds to approximately LKR 5,467 per driver for the entire year in tips. That's about LKR 455.56 per month for each driver in tips on average.
Uber Eats also represents over 10,000 registered trading partners in the five operating cities, Colombo, Kandy, Kurunegala, Negombo and Gampaha. According to the company, of these merchants, about three out of five most ordered dishes were rice-based meals of millions.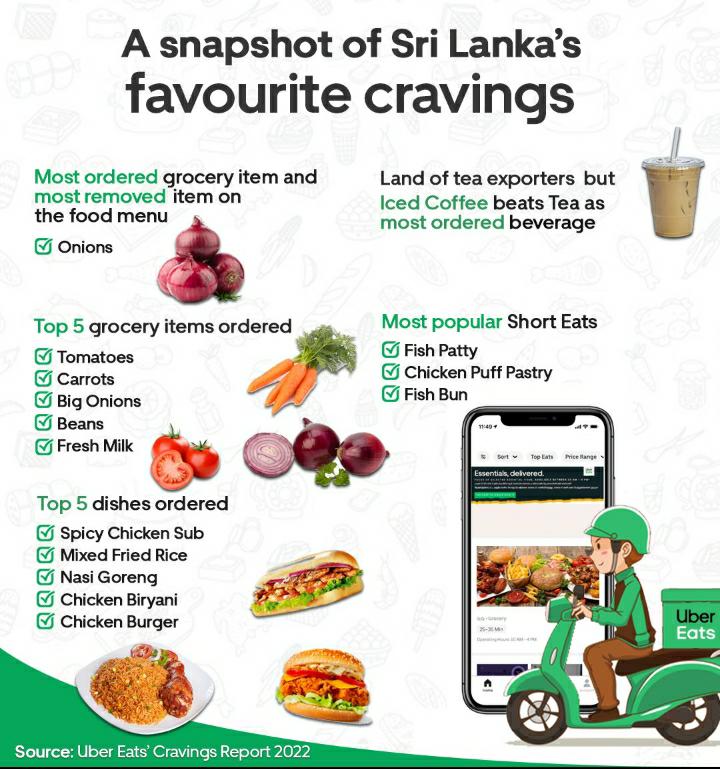 Interestingly, among consumers, one customer reportedly ordered 294 times from the same restaurant in 2022 (about 6 orders per week). Another recorded 62,600 LKR for a single order, making it the biggest order on the app during 2022.
Challenging economy
However, it should be noted that business operations have not been the easiest in 2022, especially for Uber Eats' sector. The country's economic crisis, topped by fuel shortages and subsequent power supply problems, affected many industries across the island during the year. In fact, back in May 2022, Uber Eats opted for bicycles to facilitate food and grocery delivery. In September, of the total 24 million Uber Eats deliveries, over 100,000 deliveries were made via bicycles, according to Uber Eats Sri Lanka General Manager, Bhavna Dadlani Jayawardene. How that number will change, time will tell.
But Sri Lanka was already facing its fair share of challenges since the pandemic hit the country in early 2020. Over the past few years, more people have turned to food delivery services like Uber Eats. This change was reflected in British research company Public First's "The Impact of Uber in Sri Lanka 2021" report. Consequently, the driver-partners (not Uber Eats riders) earned an estimated LKR 775 million extra in a year in higher income via Uber. In other words, an average of 27% more than the next best option (PickMe).
The same report also indicates that Uber created an estimated LKR 81 billion in economic value for the Sri Lankan economy in 2021. This includes "the impact on the revenue of driver, delivery and restaurant partners". Furthermore, the report mentions that Uber had created an estimated LKR 52 billion in consumer surplus by 2021, with Uber Eats accounting for LKR 25 billion.
Security issues and customer issues
But financial challenges weren't the only thing on Uber's list. Back in September 2022, Uber's global operations were hacked. Reportedly, over 1.1 petabytes of data could have been leaked following the hack. At the time, security experts pointed out that the incident is a "total compromise" of the service and that "they pretty much have full access to Uber." The company responded to the hack, providing an explanation for the incident and indicating that it is investigating the matter. However, the latest update was given on September 19 that the investigation is still ongoing. Despite the severity of the hack, Uber Sri Lanka has yet to comment on the potential impact of the September 2022 episode, if at all.
Then there is the issue of driver/order cancellations with Uber in Sri Lanka. Of course, that's nothing new, and it's not unique to the service. But the recurring problem continues to be a thorn in Uber's side and a seemingly unavoidable hurdle for users. What makes the situation worse is perhaps the occasionally delayed unhelpful responses. Even when not, customer service response from the Indian team doesn't do it any favors either.
Looking forward
Regardless, the company's presence and its operational impact are likely to continue to be a crucial element of Sri Lanka's gaming economy. Uber has come a long way since its Sri Lanka entry in 2015 and Uber Eats, three years later. The service proved to be among the many important moving parts of the island's economy, especially with the impact of the pandemic followed by the economic crisis. Sentiments in 2021 showed a 61% satisfaction with the service from the driver and delivery partners. Meanwhile, 69% of Uber Eats users agree that food delivery apps have helped improve quality of life amid the pandemic.
It is unclear how the past year may have affected these general sentiments. Regardless, it will be interesting to see what 2023 brings for Uber.