Tucker Carlson sparks hacking speculation with 'non-binary climate change activist of color' Twitter bio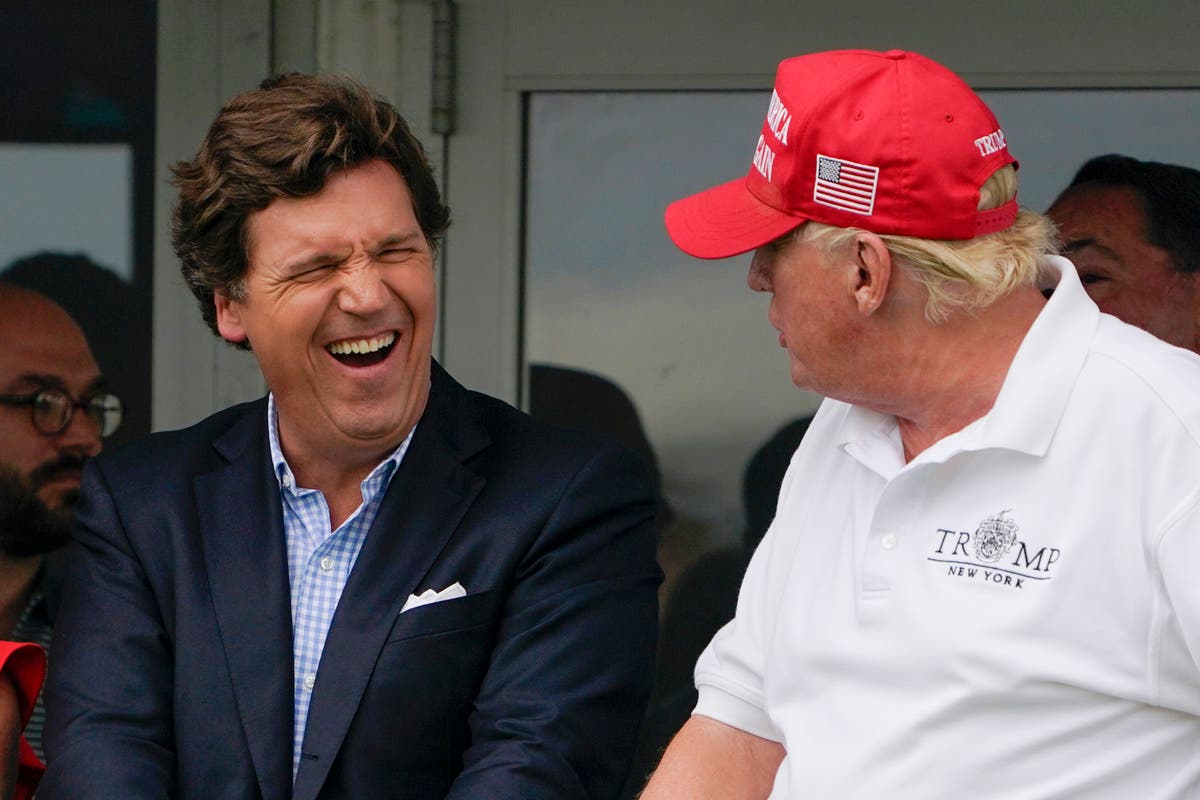 Tucker Carlson's Twitter bio has undergone an unusual change, sparking rumors that his account was hacked.
The Fox News host's Twitter bio says he is a person of color and a climate activist who identifies as non-binary. It also described him as a "visionary tech entrepreneur" and an informal adviser to Ukrainian President Volodymyr Zelensky, whom he has frequently criticized on his show.
"Non-binary climate change activist of color. Visionary tech entrepreneur. CNBC market analyst. Casual Zelensky advisor," read the new bio, which also has two transgender pride flag emojis on it.
The strange update was brought to the attention of members of the hacktivist collective and activist group Anonymous. "Tucker Carlson you have been #hacked," they said.
But it turns out Carlson was trying to troll his critics in a repeat of a similar stunt he pulled last May when he changed his bio to "fully vaccinated."
A Fox News spokesperson told The Daily Beast that the claim that his account was hacked was "false, the account has not been hacked".
Brian Krassenstein, a social media personality and entrepreneur, was also tricked into believing Carlson's account was hacked.
"BREAKING: Tucker Carlson Just Got HACKED! Hacker group Anonymous has apparently taken credit for hacking Tucker Carlson's Twitter account," Twitter said.
"Stop whatever you're doing and look at @TuckerCarlson's bio before it gets fixed! Whoever hacked him hit the nail on the head!" said another Twitter user Brent Hennrich.
But some Twitter users soon pointed out that his account was not hacked.
"Tucker Carlson got a lot of free engagement on his Twitter account tonight, but he didn't get hacked. This was his biography a month ago. Everyone has just taken the bait, said Damin Toell.
Last year he changed his Twitter bio to "Fully vaccinated. They/Theirs" and a few months later changed it to the pronoun "She/Her" and added the Ukrainian flag emoji.
More than a million pages of internal Fox memos that were part of a defamation lawsuit against Fox News have revealed that senior Fox News personalities had cast doubt on Donald Trump's election theory, even as the network continued to push it on air.
Carlson, who downplayed the Jan. 6 riots, told his staff about Trump, "I hate him with a passion," according to a lawsuit filed by Dominion Voting Systems striking the news network.