This is the one beauty hack that Selena Gomez's makeup artist wants you to know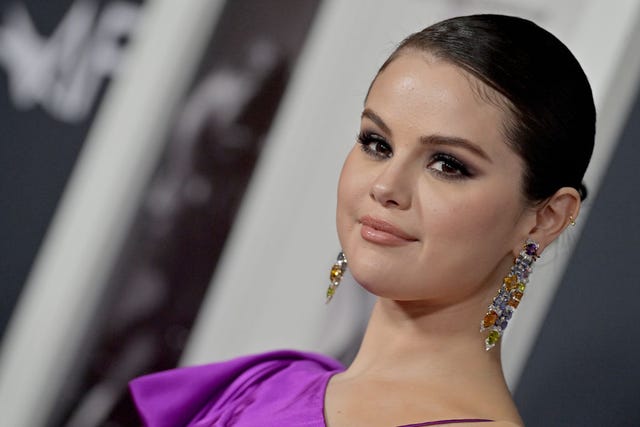 Axelle/Bauer-GriffinGetty Images
If you swooned over Selena Gomez's Rolling Stone cover before quickly asking yourself what does she make her skin look like that good?' so dear reader, you will be happy to know that we have the answer. Or rather, her makeup artist, Melissa Murdick, does.
Murdick reveals on Tik-Tok exactly how she created the barely-there glow, telling her followers that the inspiration behind the look came from a ballerina and that she wanted to keep it "understated and super glowy".
The one tip we didn't expect? It's all about where you place the blusher, and as it turns out, it's actually a game-changer. Here is everything you need to know…
This content is imported from Instagram. You may be able to find the same content in a different format, or you may find more information on their website.
Explaining how she created the ethereal glow for Selena, Murdick uses the products on herself, starting with the Rare Beauty Illuminating Primer, revealing: 'I just apply all over my face, then I'll use a very generous dose of 4-in- 1 Mist.'
She continues 'because we don't want the skin to look made up, but we want to get some evenness, all I use is Rare Beauty Tinted Moisturizer only on the areas that really need coverage, but I'm not going to put a heavy thick coat on the skin .
"To complete the skin, I used a little concealer under the eyes and then with Rare Beauty Loose Powder in light, I'm going to put just a touch of powder just in the T-zone and on the smile lines, just so it doesn't look greasy in the middle of the face , but we keep the glow everywhere else.'
She adds: "I usually exaggerate Selena's brows a bit to lengthen them, but for this look I used her Rare Beauty Brow Harmony Pencil to fill in a few areas, not fill in the entire brow. I also set the brow with the gel that is at the other end of the pencil so it looks nice and brushed.'
When it comes to Selena's eyes, Murdick says "to keep her eyes defined but not make it look like she's really wearing eye makeup, I curled her lashes first and then applied the thinnest layer of Rare Beauty Mascara just to give almost a shade to the lashes but no build.'
She also hinted that the real secret to achieving this look is the flush. If you usually place your blusher on the apples of your cheeks and swipe upwards this time, throw that rule out the window because Murdick advises you to rethink your blush application.
This content is imported from TikTok. You may be able to find the same content in a different format, or you may find more information on their website.
"So I mixed two [Rare Beauty] liquid blushes, one is Thankful, one is Faith, to create a realistic blush. A blush on the cheek always has that bluish undertone and I kept the blush quite low. So, start at the middle of the cheek and actually bring it down, that's where we get red if we exercise or how you would see it on a ballerina or a small child.'
Murdick then goes on to explain, 'I took what was left on the brush and very lightly stroked over her eyes just to bring that tone together. I then placed a bit of the Enlightened Highlighter in the center of the nose and around the eye to keep the area nice and bright and glowing.'
Finally, she adds, "then all I did was put on some Rare Beauty Nearly Rose Glossy Lip Balm and then, of course, a good dose of the 4-in-1 Mist."
The video ends with Murdick comparing herself to the picture of Selena on the cover, and wowza, when she says "twinning" she's not kidding.
So there we have it, a few very simple steps to create the ultimate "no makeup, makeup" look. If you don't mind, we'll buy the entire Rare series, stat.
Follow Perdita on Instagram