STAMPEDERS' NOTES: All's well that ends well for the all-stars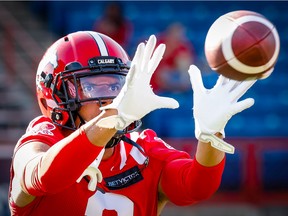 Article content
Yes, Wednesday was a strange day for five of the Calgary Stampeders.
Article content
When they woke up, they found they had not been selected for the CFL all-star team. It's disappointing, for sure.
Article content
Eight hours later, they each received a call from Stampeders communications wizard Jean Lefebvre informing them that they were indeed all-stars.
"Everything worked out the way it was supposed to work," said Stamps cornerback Jonathan Moxey, who was one of the initially disappointed players eventually honored with an all-star nod. "I just had a feeling, honestly, I thought their computers were hacked. That's literally the first thing I thought when I saw it, just that this can't be right.
Article content
"But I got the call and I was happy I'm grateful to be named an all-star by the media and coaches and fans who also voted."
Article content
In addition to Moxey, the Stamps also saw right guard Ryan Sceviour, center Sean McEwen, left tackle Derek Dennis and wide receiver Malik Henry also added to the West Division all-star team when the revised list was sent out by the CFL.
They joined defensive end Shawn Lemon, defensive tackle Mike Rose, linebacker Cameron Judge, running back Ka'Deem Carey, kicker Rene Paredes and punter Cody Grace on the list of 11 all-stars from the Stampeders, which had more than any other team in the West division.
"It was a mess, but I'm glad they got it done and I'm glad to be an all-star, obviously," Sceviour said. "I had heard rumblings, but at that point I was just like, 'I guess I'm not an all-star this year, better luck next year,' and then Jean told me that actually, yes, the recount happened and actually I was an all -star, so yes, it was exciting and I was happy with the season I had and we had as a unit.
Article content
"It feels good, especially because (head coach Dave Dickenson) always preaches that to make the team good, you have to make yourself good, so if you make yourself an all-star, all it does is help the team. Just making myself the best I can be and hopefully that helps make the team the best."
While it was good news all around for the Stampeders when the revisions were announced, it was a tough day for the league and for the 21 players who had to be informed that they had been mistakenly included on the team.
"It's important. You put in a lot of hard work and effort, and you really want, at times, to feel like other people are giving you what you need," Dickenson said. "There are a lot of quality candidates out there, and I'm sure if I was one of those guys that got an all-star nod and it was taken away, it would have been pretty disappointing, so it's unfortunate that it happened. Hopefully it never happens again."
Article content
HOPEFULLY
Henry has not played in three games, and while there is plenty of optimism surrounding his return to the lineup for this weekend's West Division semifinal against the BC Lions, nothing is guaranteed at this point.
The Stamps' injury report indicated he was a full participant in Thursday's closed practice, but Dickenson expressed some uncertainty about Henry's availability for Sunday's game.
"He was practicing, maybe not drunk, though," Dickenson said. "It's hard, you know, back-to-back days. Had a couple of guys that I thought pulled back a little bit and he was one of them, now I have a decision to see if I think he can get through the game. Probably three guys I'll have to call tomorrow."
The other big question mark is defensive end Folarin Orimolade, who missed last weekend's regular season finale against the Saskatchewan Roughriders with a pulled muscle.
Many veterans missed that game, but even last week Dickenson indicated the injury was a concern.
As one of the best d-linemen in the CFL, Orimolade is a guy the Stamps obviously want in the lineup.
"Flo did more today, not all, but more," Dickenson said. "I still think he's trending in the right direction. We need him, so hopefully he'll be ready to go."