Snapchat account locked? How to unlock Snapchat using different methods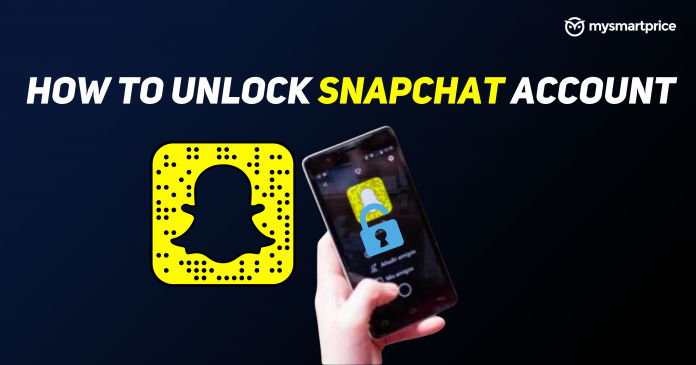 Snapchat account locked? The popular social media app from Snap Inc. can lock your Snapchat account if it has detected activity from your account that violates its terms of service or community guidelines set by the company. There are two types of locks that Snapchat makes for its users. One is called a temporary lock and the other is a permanent lock. If you fall under the former case, the good news is that you can unlock your Snapchat account. But if your account is permanently locked, Snapchat won't unlock it.
In this guide, we are going to take a look at how to unlock the temporarily locked Snapchat account. We will give you step by step details about unlocking in two methods. Furthermore, we will also tell you why and for what reasons Snapchat can lock your Snapchat account. Let's get started.
Also read: Snapchat: How to change username in Snapchat?
How to Unlock Snapchat Account Using Unlock Webpage
Visit

Unlock the website with Snapchat account

if your account was temporarily locked
Enter your username/email and password, then select login
Read the message displayed on the screen carefully and select the "Unlock" option (make sure to uninstall third party apps/plugins before proceeding here)
Your account will be unlocked

Next, verify your email address with Snapchat once you've signed in to make sure your account hasn't been disabled for adding too many friends.
This method only works if the elapsed time is sufficient to unlock. If so, you will see a message confirming that your account is now unlocked. If there hasn't been enough time, you can try after a few hours.
Also read:
How to Unlock Snapchat Account Using Snapchat Support
In case the first method doesn't work, you can contact Snapchat Support and get the problem resolved. Here's how you can do it.
Visit

Snapchat support page

Select the "I can't access my account" option under Contact Us

Then select "I think my account was hacked" under "Oh no! Tell us more"

Enter your username, email and mobile number in the form

In the text box under "What information should we know?" enter a polite email message requesting the recovery of your account. Clearly state that your account may have been hacked by someone else and that may have caused the problem. Be sure to express why the account was locked.

Enter the captcha and click Send

If the support team is convinced, your account will be unlocked
Also Read: Snapchat Dark Mode: How to Enable on Snapchat Android and iOS App
Reasons why your account may have been locked
Third-party or unauthorized apps
This is one of the most common reasons why users get locked out. Make sure you're not using third-party apps, plugins, or tweaks for Snapchat. If your account has been temporarily locked, uninstall them before trying to unlock it, otherwise it may be permanently locked. Regular use of third-party applications or tweaks, sending spam or other offensive behavior may result in your account being permanently locked.
Spamming, abuse and suspicious activities
Like all other online platforms and social media, Snapchat is strict with its spam and abuse policies. On Snapchat, avoid spamming or other behavior that violates the Community Guidelines. Snapchat will send a message like "We've detected suspicious activity on your account" if you've sent many friend requests to multiple Snapchatters in a short period of time.
Unusual login attempt or unknown location
In the event that you have logged in from an unknown location or banned a device in violation of Snap's Terms of Service or Community Guidelines. Snapchatters who have had their accounts terminated are also prohibited from creating new accounts. So make sure you're using the right device and location to sign in.
Be sure to unlock account fraud
As said before, you can only unlock it if your account is temporarily locked. You cannot unlock your account if it is permanently locked. But there are scammers online who will promote fake Snapchat account unlock services, often claiming to be hackers or Snapchat employees who can unlock your account in exchange for money, or even for free. Make sure you stay away from these scams as they are not legit and Snapchat staff or hackers cannot unlock your account for you if you have been locked out. The best thing for you is to support the customer as mentioned in the above steps.
Also Read: Delete Snapchat Account: How To Delete Snapchat Account Permanently Or Deactivate It Temporarily
Frequently asked questions:
How to avoid being locked on Snapchat?
Make sure you are in line with Snapchat's terms and conditions and don't install any third-party apps or plugins, and other details mentioned above.
My account is permanently locked, can I unlock it?
Unfortunately, the answer is no. Snapchat says there is no way to unlock your account if it has been permanently locked. However, the best thing to do in this case is to contact support.
Thank you for reading to the end of this article. For more such informative and exclusive technology content, like our Facebook page