I've always been a stickler for niche hardware – especially phones. In high school I had the T-Mobile Sidekick with the flip around screen that I used to play Midnight Club: Los Angeles and Tony Hawk: Ride. I was a big fan of Motorola's Moto Z series of modular phones that came with attachments like a Bose speaker and a Switch-style controller. I reviewed the Red Magic 3S, I had the Xperia Play, AKA the Playstation Phone, and yes, I had an N-Gage. If a phone offers a unique gaming experience, I'm always going to be the first in line to buy one.
My latest obsession is one you've probably heard of, but maybe not as a dedicated gaming device. Microsoft's Surface Duo is a dual-screen folio-style device marketed as a productivity device for busy professionals, but the more I use it, the more I realize how much it has to offer gaming. There are things this phone does that no other mobile device can do, and as Microsoft continues the product line in 2023, I hope it continues to unlock the Surface Duo's gaming potential.
Related: 5 Mobile Games That Won't Try To Rip You Off And Ruin Your Life
I bought a 1st generation Surface Duo last week for $250 on Amazon because I wanted a lightweight eReader and I was drawn to its book-like design. Of course, I immediately started putting games on it the second it came out of the box. The Surface Duo has some unique qualities that set it apart from all other phones that make it a fantastic device for streaming and emulation. The two 5.6-inch OLED screens are connected by a hinge, giving you two separate screens. They have a 4:3 aspect ratio, which makes them oddly shaped for a phone, but they're the perfect dimensions for full-screen and retro gaming.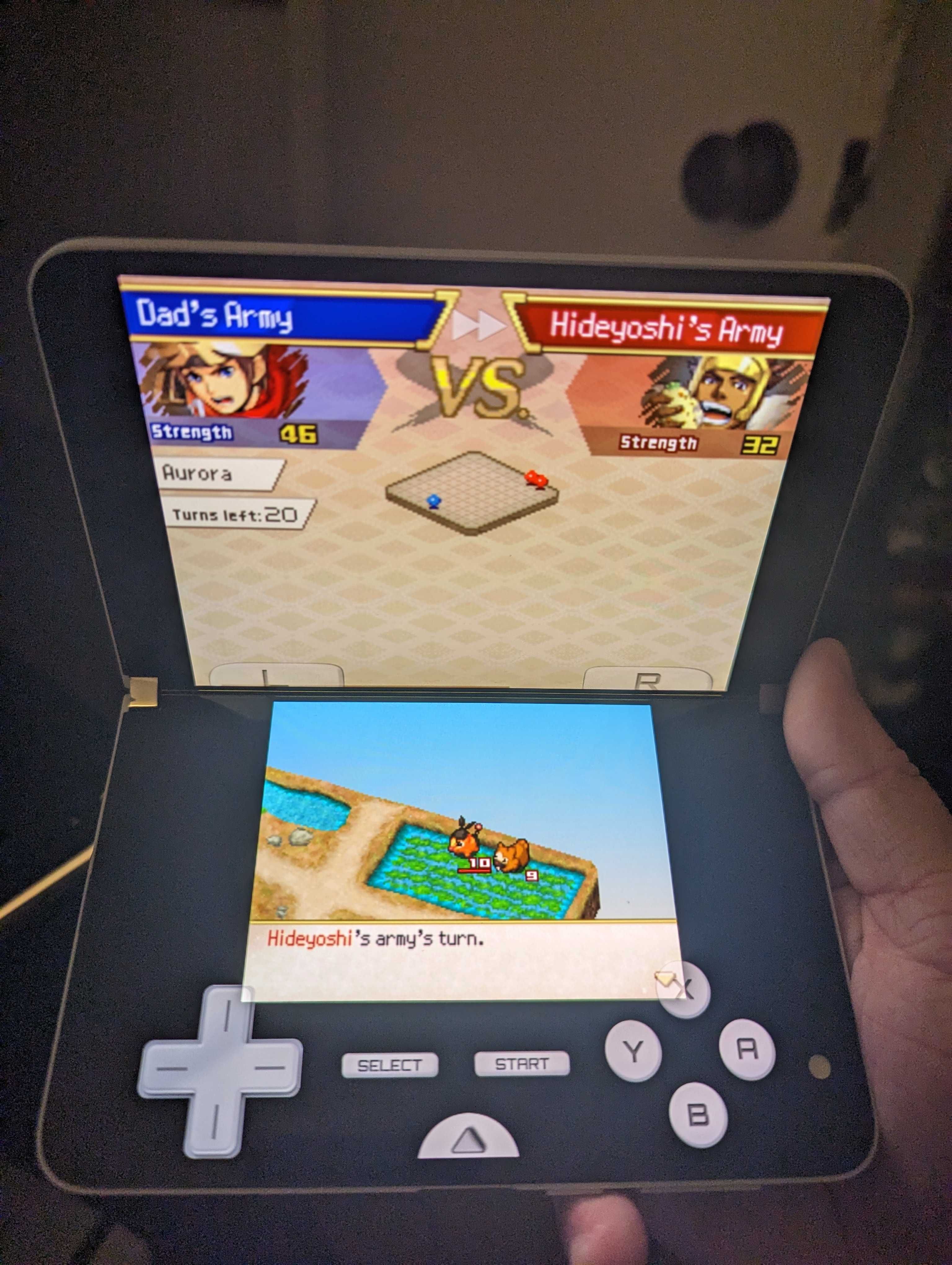 Android games tend to struggle with the odd size, but streaming Game Pass is a much better experience than other phones. Not only do you get a bigger screen (just an inch and a half smaller than the Switch), but you also get the benefit of two screens, which makes it so versatile. Game Pass has built-in support for the Surface Duo, so you can place all the touch controls on one screen and the actual game on the other, keeping your screen tidy and keeping your fingers from blocking what you're playing. Alternatively, you can keep the second screen operational and use it to watch videos, look up guides, or chat with friends in Discord while you play. If you're using a Bluetooth controller, you can also use the second monitor as a stand to support it as the switch in tabletop mode. The duo fits nicely into the Razer Kishi 2 too, and you can still use the second screen to do whatever you want while gaming.
Surface Duo is also an incredible DS and 3DS emulator. Curiously, it shares almost identical dimensions with the 2DS, but has a much larger (a customizable) screen. Using Android apps like DraStic and Citra, you can emulate most DS and some 3DS games flawlessly. If you don't use touch controls often, the on-screen buttons may take some getting used to, but I've had no problem playing classic DS games like Pokemon Conquest, Rhythm Heaven, The World Ends With You, and The Legends of Zelda , the Phantom Hourglass in all its dual-screen glory.
You are also not required to use both screens. The first generation Surface Duo folds flat on itself, turning into a slightly thicker version of a single-screen phone. While folded, you can use Surface Duo to play games just like you would any other phone—albeit on a much wider, brighter screen. When it comes to gaming, you don't lose anything that a regular phone can do when you use the Surface Duo, you just gain a lot of new ways to play.
The original Surface Duo launched in 2020 and was poorly received due to software bugs, high price and its odd form factor. The Surface Duo 2 followed in 2021, but instead of releasing a new device in 2021, Microsoft updated both phones with Android's latest operating system designed for folio and folio-style devices called Android 12. It is expected, but not confirmed, that a The Surface Duo 3 is coming out this year. The Surface Duo 2 has been sold out globally since October, but the original Surface Duo is still available for under $300 from many retailers. It's the coolest device I've ever owned for mobile gaming, and I hope Microsoft leans into those capabilities if a Duo 3 is on the way.
Next: Mobile games appeared in 2022