Kyle Smith 'tired of being disappointed' as WSU loses heartbreaker 67-66 to UCLA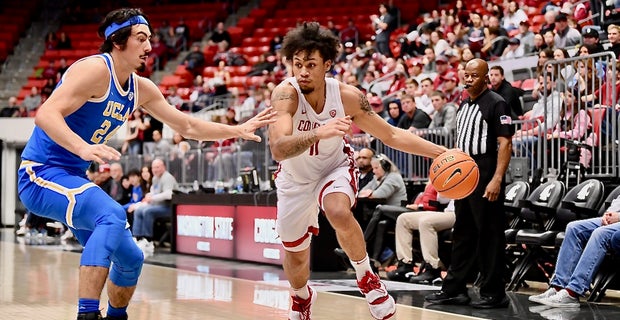 WASHINGTON STATE LEADS for 35:18, but didn't hold the lead when it mattered, losing an absolute heartbreaker to No. 11 UCLA by a score of 67-66 in Pullman on Friday night. WSU didn't hit a field goal in the final 7:24 and turned it over twice in the final minutes, allowing the Bruins to pull the rug out from under the Cougars and steal the win.
"I just can't believe we lost that game," one dejected Kyle Smith said after the match. "It's disappointing. I'm sorry to say it, too. It hurt. Just poor execution down the stretch … your guys played. My fault. Disappointing."
Smith sounded as disappointed as he has ever been since taking over in 2019-20 and for good reason. The Cougars led by as many as 12 in the first half and held a nine-point lead with 7:23 left. But they would score just four more points and would not hit another field goal.
Smith didn't say it outright, but he was clearly frustrated with the referee as well. UCLA shot 22 free throws to WSU's 12 and there were several foul calls. Smith received a technical foul just over a minute into the game, Mouhamed Gueye was flagged for a questionable charge and then hacked on the final play, and TJ Bamba was steamrolled late in the game without a call.
But having said that, it's hard to point the finger anywhere but at the reflection in the mirror. WSU missed its last nine shots and went just 1 of its last 12. The Cougars turned it over twice late and still had a shot to win then DJ Rodman's triple edged out. The clutch gene just hasn't been there for WSU the past two years.
TURNING POINT:
Adem Bona's winning layup is the easy answer, but it feels like the true turning point came earlier. Up nine with the ball and seven minutes left, Adrame Diongue was blocked and UCLA went on a 6-0 run, all from star Jaime Jaquez. If WSU scores there, it stretches the lead to double digits and might break the Bruins. Instead, Rodman picked up his third foul and the Bruins regained momentum.
PLAYERS OF THE GAME:
Rodman still had a spectacular game with 19 points and five rebounds, but that miss will weigh on him. Gueye was unstoppable with 18 points and a career-high 18 rebounds and Jabe Mullins had 11 points but did not score in the second half. What killed the Cougars was the night TJ Bamba. The team's leading scorer was just 2 of 9 for five points and three turnovers. He uncharacteristically did not get to the foul line and did not score in the second half. Justin Powell's peaks and valleys also continued. He had just five points and got into early foul trouble.
Related: This week in WSU hoops, welcome to Pac-12 play
DIFFERENCE STATISTICS:
The free throw disparity was a factor however you want to split it. But it also plays into why WSU's KenPom happiness is so low. UCLA entered the game shooting 71.4 percent from the line and was 353rd in the country making just 12.6 percent of its points from free throws. The Bruins continued to shoot 95.5 percent from the stripe and 31 percent of their points came from the line. If UCLA has even one above-average day from the stripe, WSU wins. But alas, it didn't, and WSU is now No. 362 in the KenPom poll.
NEXT: WSU hosts USC on Sunday at 12pm on Pac-12 Network. The Trojans are 11-3 and absolutely cruising with eight straight wins, and handle Washington in Seattle on Friday. WSU has lost 12 straight against USC, and there's no better time than now to end that streak, with the Cougars desperately needing a win.
NOTES:
Now with a 5-9 record, four games under .500 is the most Smith has been as a WSU head coach. His previous low? One. It came three times during his first year.
The WSU women lost their own heartbreaker earlier in the day, falling 71-66 to Utah. The Cougs were without Charlisse Leger-Walker who is back in New Zealand for personal reasons.
Powell is 3 for his last 18 from deep. He's beyond freezing right now.
WSU actually moved up in KenPom to No. 75 because of the margin.