Japan vs Spain: World Cup 2022 – live | WC 2022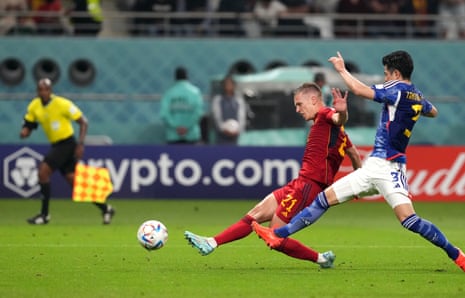 Key events
90+7 min: Big cheers when Gonda gets the ball and takes his time over it. Spain seem content to hold the ball now. Boos as they go for a final attack. Cheers when the ball is cleared and that's it…Japan has done it.
90+6 min: Spain is sending it around, with the drums, drums, … drums still playing. The Japanese are reduced to the back five, seven and nine now. Their fans sing and whistle. Not long now.
90+5 min: Spain is still pushing for this one, by the way. Japan have defended so well, but are reduced to getting it out, with no one up there to chase the ball down.
90+4 min: The prediction at this point is that Bild's pages will feature a picture of the ball going over the line – or otherwise – for that Japan goal.
90+2 min: This is no Gijon-style détente between Austria and Germany from 1982. Spain is trying to get into this. Ten minutes have been added to the second match, where Füllkrug has scored and made it 4-2 for the Germans.
90 min: AS IT STANDS: Spain and Japan go through. There are seven extra minutes.
89 min: Jordi Alba, who actually came on as a sub, has his shot blocked, as does Asensio when the ball bounces out. Then Olmo is at the end of a nice passing move and Gonda saves low, and keeps going.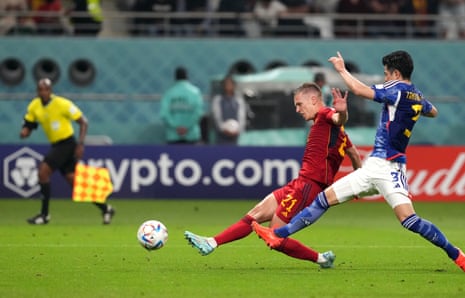 88 min: The countdown is getting crazy right now. Spain stood between wanting to win the group and knocking out the Germans. I think. These games are on the same clock.
Update: Costa Rica 2-3 Germany
Havertz has scored and Spain will beat Germany on goal difference. Germany need a Spain goal to stay in the World Cup.
84 min: Ito almost escapes and Carvajal has to run all the way back to clear the danger. One on one with Simon was a suboptimal situation. Spain must throw everything at this, and the back door will be left open.
83 min: Japan take their time over a free kick. A lot of time. Doan, the magical man, takes it and Itakura goes down. This time Simon was comfortable. Remember, the header was about 30 meters away.
81 min: Nathan Barnes: "It is unthinkable that the team that was beaten 7-0 in their first group game is ahead of their conquerors in the last group game. Football never ceases to amaze."
Not now. (I think.)
80 min: It's all of Spain, but so far everything has been toothless. Spain who do not have a striker, Morata has long since left the pitch. Fati chases the ball down to the touchline, but can't win a corner.
77 min: Adriana Batalha has a VAR referee in her house, it seems. Is that Peter Walton? Actually, where is Peter Walton? "I showed that picture to the expert in my house and he says it looks like it's inside. You need to look at the entire volume of the ball, not the part that touches the floor. If you look at the wider part of the sphere, it's in the line."
76 min: Lots of emails saying the ball was IN for the second Japan goal. Guess it's in the eye of the beholder, or WAS as it were. And we still haven't seen the photo they used.
74 min: OK, Spain still need to find a goal. They cannot trust the Germans and Costa Rica. Tomiyasu returns to show his experience and sweep up. Japan is holding on to this and Germany is done.
Score Update: Costa Rica 2-2 Germany
Kai Havertz has scored, and it is breathing life into Spain, if not Germany yet.
72 min: Spain must find a goal from somewhere. Japan really defends deep.
Score update: Costa Rica 2-1 Germany
AS IT IS, Spain and Germany are going out. Manuel Neuer again and it's Juan Pablo Vargas after a long VAR delay.
70 min: Asano, one of the Japanese subs, has a brilliant chance, Mitoma set him up with a burst down the wing, and a lovely pass inside. Asano was thrilled.
69 min: Another Spain sub: Fati on, Alba off. Japan sub: Tomiyasu comes on, after nursing his back from the muscle injury he suffered against FC Zürich.
66 min: This game has been on the decline recently. Perhaps having the score from the second game on the scoreboard – as I believe is the case – prevents them from playing properly.
64 min: Was the ball out? It looks like here. We still haven't seen the VAR pictures. Gianni Infantino is in the stands and feels Japanese without a doubt. Or Costa Rica. But not a migrant worker.
62 min: 30 minutes plus change of this price is coming. Not so much now that TV executives have decided they don't like all that added time. Disturbing the advertisers, see.
Update: Costa Rica 1-1 Germany
Speaking of goalkeepers dropping a rickett, Manuel Neuer had one. Yeltsin Tejeda scores, and suddenly both Spain and Germany are staring down the barrel.
59 min: Kari Tulinius emails in: "Jonathan Wilson has the theory that it can be bad for a team to score too early. That is certainly the case when you play Japan, who seem to get better the longer they are behind. Costa Rica had the good sense to score against them late in the first half and win.
57 min: Spain subs: Out Williams and Morata, and next come Asensio and Ferran Torres.
56 min: Howard from Streatham reports: "Maybe late for this but where's De Gea?" Yes, Unai Simon takes the rap for this one so far. Meanwhile, VAR has yet to show us that the ball was in. Or a picture for that matter. Soccer!
53 min: AS IT IS: Germany is on its way out. Japan's submarines are once again turning this group upside down.
Goal! Japan 2-1 Spain (Tanaka, 51)
Japan has the ball in the net again! Doan again, the ball runs to the touchline and it's knocked in. The VAR ran the check and the ball appeared to have run out of play again. Nagatomo seemed unable to contain it. Was it inside? It was! That's what VAR says. There must be nothing in it.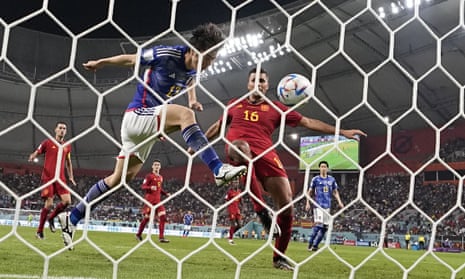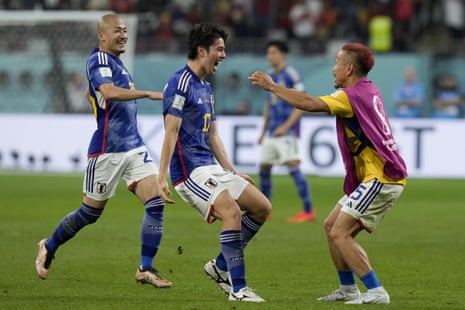 49 min: As it stands, Japan is on top. Well well Well.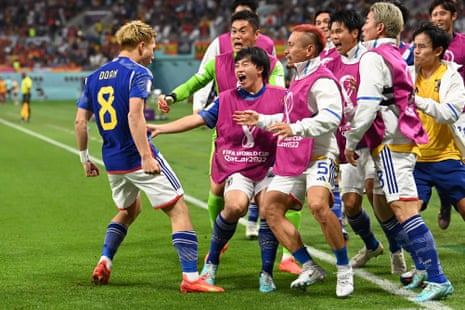 Goal! Japan 1-1 Spain (Doan, 48)
The drums, drums, drums continue. But what is this? Doan, the submarine, has scored. The ball fell to him outside the penalty area. Unai Simon was again guilty, first of stepping on the ball, second of not saving. Well well.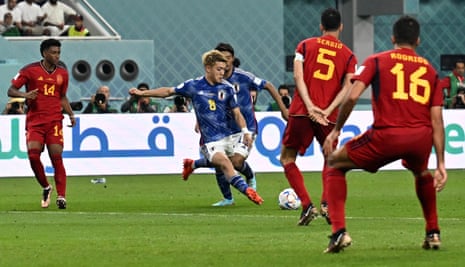 46 min: One change for Spain, two for Japan. Dani Carvajal for Cesar Azpilicueta. And for Japan, Nagatomo and Kubo have left, and Doan and Mitoma from Brighton have come on.
More emails:
Roger Kirkby: "Hi John, fun fact for you. In the last 4 World Cups 13 times groups have been won by a team with 9 points. None of them won it. The winners had 7 or 6 points."
Alexandra Ashton: "Eagerly wearing my Japan shirt with my boyfriend, hoping for a miracle. As it stands, they've looked pretty awful in my eyes (I think it'll be 2-0 Spain), although he claims Japan will "grow into the game" and win 2-1. It remains to be seen whether he or I will be eligible full-time."
The emails are in.
Matt Dony: "Spain has a Rodri and a Williams on the pitch. They are the new Wales. Dewch onder, Spain!"
Simon McMahon: "Evening John. This is hardly BREAKING NEWS but I would think at full time Japan will be kicking themselves about the Costa Rica game. A missed opportunity. But you just never know, maybe they can turn this game around like they did against Germany .No matter what happens, their fans will still clean up full time and leave in an orderly, good natured way.I think all fans should be more like the Japanese.
Albert Farkas: "I can't help it, I just can't stand the sight of Morata. He gives off vibes of a Spanish Patrick Bateman."
Roger Kirkby: "Hey John, not the fireworks last night, Japan really need to score or this is now dead rubber territory."
In a previous life I worked for an American company that banned the use of "dead rubber" and also did not like the term "cross-cum-shot". It had never occurred to me that these were somehow rude. I still don't know why they are…
Some World Cup news for half-time reading.
Half time: Japan 0-1 Spain
It has been all Spain and the relatively early goal from Alvaro Morata reflects their dominance. Japan has struggled but worked so hard to stay in the game. An even stronger effort is required in the second half, as Germany wins the second game.
45 min: Gavi takes a rap to the ankles from a Taniguchi tackle and the offender is then booked. Then Yoshida is judged for smashing into Morata. Except he hadn't. A simulation got the former Southampton player booked. Only one minute added.
43 min: Olmo forms to shoot and it is blocked as Taniguchi slides in. Japan has undoubtedly defended. So hard for them to stop the flow.
41 min: Alejandro Balde, 19, one of the next generation, and already looks the part.
39 min: First booking: Itakura taps into Pedri, who had been sold a little short with a Busquets pass. Painful, but the Barca boy will manage to continue. Itakura, who plays as a wing-back, is now suspended for the next round should Japan make it there.
38 min: Spain may find this a bit more ragged than they would like. But still has great control.
36 min: Is Japan going anywhere? Finally the likes of Nagatomo get a touch, and Ito and Kamada have a shot blocked. It was an offside where the referee missed.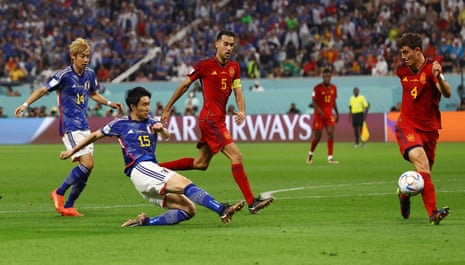 34 min: Unai Simon turns a wobble into a counterattack, nearly sending Williams off with a quick hack with the ever-hopeful Daizen Maeda giving chase.
32 min: Busquets takes a break, takes his time getting up. So does Gavi. The 34-year-old has a yellow card and could be withdrawn as soon as this job is completed.
31 min: Japan get a glimpse, but then Busquets shows his trademark anticipation and the statistics show that Spain have had 79 percent of possession. If they had a striker, they would be dangerous. Wait, they have Morata.
30 minutes: Spain take the sting by passing around, moving the ball around at will, and wearing out their Japanese chasers.
28 min: Japan is frustrated here. They came to pressure and are pushed to distraction. Busquets sees his best route back and he is quite lax in playing the ball back to Unai Simon, who has to rush to clear the ball.
26 min: Peter Oh joins us: "This is a timely battle with goalie nominative determinism, because Shuichi is Japanese for 'once a week' and Unai is Basque for 'now'.