I was 112 not out for lunch… and then I went and scored a hat-trick
FROM MAG: Gary Lineker sat down to lunch with David Gower – and editor of The Cricketer Magazine Huw Turbervill – with football, cricket and the BBC on the menu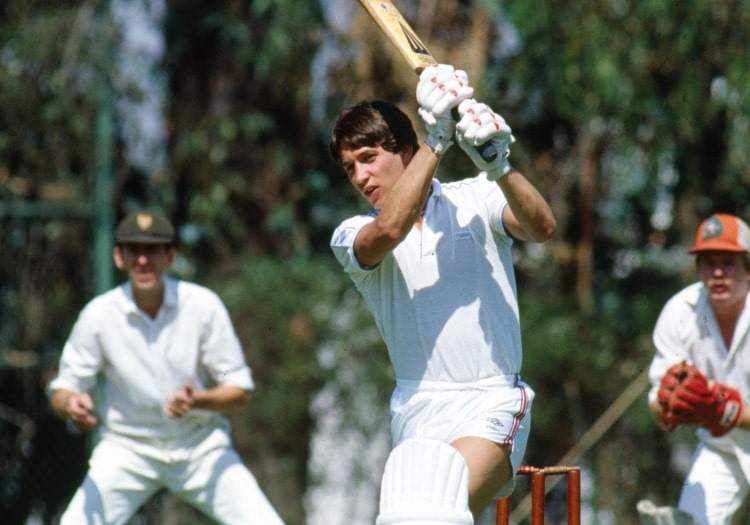 David Gower writes monthly for The Cricketer magazine. This is an abridged version of his interview with Gary Lineker which appears in our December 2022 issue. To read the full version, pick up a copy of the magazine by clicking here.
On test vs white ball
Gary Lineker: Cricket is good at the moment isn't it?
Although the tests end earlier I guess…
David Gower: Beefy would love it – start times at 10 on day four!
GL: I love Test cricket and so do my four boys.
T20 is good for the game in general, but tests feel right. When you get a great Test match there is something special… those fourth innings run chases by England… "Let's go for it, we don't care!"
You would have been good at T20, David…
Huw Turbervill: Would you have done all those reverses and scoops?
DG: Me'd has learned it! They play them from a young age now.
GL: I think it's easier to face the white ball…
DG: It doesn't swing that long.
GL: Can you see it more clearly?
DG: Yes… But it's different.
HT: Would you have batted like Dawid Malan, David?
GL: Except he can't spell David… And could Dawid Malan fly a Tiger Moth?
DG: We were chatting in Lahore during the T20 series and Ben asked if I had ever played in Pakistan. I said I had scored a century, 152, in a Test match for England in 1983/84 in Faisalabad (not to mention the 173 not out in Lahore in the next Test!).
He looked it up and laughed when he saw it took 318 balls! Too slow apparently!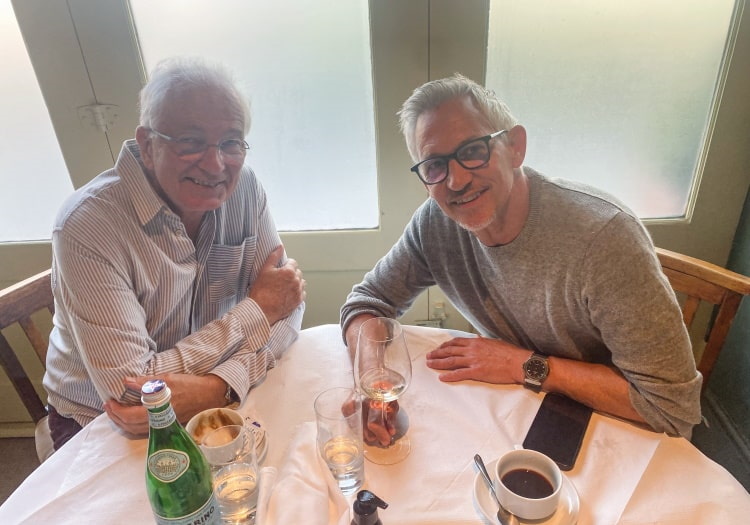 David Gower and Gary Lineker reunite over lunch
Gary'his cricket career
GL: I've never played that much. Remember the day Jonny Bairstow held? He was 12. Years later I realized who he was and how good he had become…
DG: I remember a match where you scored runs, kept wicket and took a brilliant flying catch on the boundary, basically p*ssing every professional within about 100 miles…
GL: It was one of my favorite days in sports… doing it in front of proper cricketers!
HT: What about when you played cricket and then football in the same day for Spurs?
GL: David English called and asked me to play for Bunburys the next day.
I said "Dave, I'm playing West Ham at White Hart Lane tomorrow night. It's the last pre-season friendly."
He said "How about you open the batting and then leave?"
"OK then!" It was at Finchley, and Courtney Walsh opened the bowling. He threw me a joke guard that landed in his own half. He then took two steps back and I said, "Courtney, I want you to throw me a hard one."
He said "Really?" I said, "Yeah, right!"
The first whistled past me. I left the other one. He was sensible, bowling at a good length, outside off.
I managed a couple of forward defensives, but the last ball I got brave. I figured he was going to bowl it in the same spot, so I flew at it and 'bang', it steamed through the covers for four. A brilliant moment. I was 112 not out for lunch.
I said, "Dave, I have to go!" He said "You have made me proud!"
And then I went and scored a hat-trick. What a day. I had a lot of mistakes too!
DG: We like Gary as a person, but stories like this make us sick.
Footballers like cricketers
HT: You captained Leicestershire Schools straight through – could you have made it as a pro?
GL: I'm not sure. I went to City of Leicester Grammar School and saw a lot of games at Grace Road.
David was my hero, even though he is only four years older than me. I remember getting his autograph.
I honestly thought as a kid that I had a much better chance at cricket.
HT: Like Phil Neville…
GL: Andrew Flintoff said Phil was the best he had seen in that age group, better than Sachin Tendulkar! Who wants to be a hacking back?
DG: It's one of those existential conversations… should he have gone for the aesthetics of throating it through the covers or the money you get for hacking someone right out of the box?
HT: There have been Denis Compton, Jim Cumbes and various people who are good at football and cricket…
GL: If you're good at one hand-eye coordination sport, you tend to be good at others. John Barnes and Glenn Hoddle were good at cricket. Mark Hateley. Gazza was also ok.
One year we played against MCCC… Mexico City Cricket Club and we absolutely beat them.
It was the year before the WC in 1986 there. I scored a fifty, I think me and Barnesy saw us through.
Sir Bobby Robson loved cricket too. Around that time I had to play five games a year for two years for the real MCC and it went well so I got membership as a player.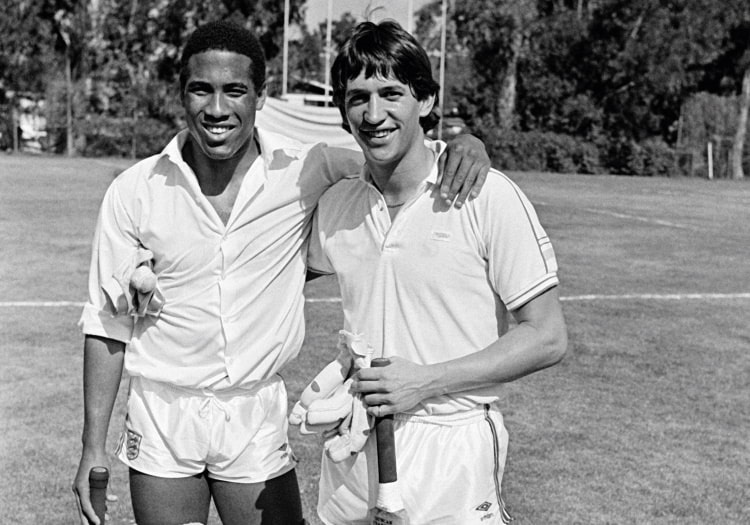 John Barnes and Gary Lineker after the match against Mexico City CC which the English footballers won by eight wickets at Reforma Athletic Club in June 1985 [Bob Thomas Sports Photography via Getty Images]
On the BBC
HT: Does criticism of the BBC and your contract get you down Gary?
GL: I try not to. The same old people have a trick on me. I have no respect for them.
The BBC is obliged to publish my salary every year. I am nowhere near the highest paid. I do things openly – other people do it through their production companies.
You will always get BBC bashers though. I have a contract for another three years. I still have energy and enthusiasm. I do n'doesn't feel old.
I have told my sons that the first to make me a grandfather will be written out of my will!
Inside our spring December 2022 issue of The Cricketer magazineyou'lI also find:
– George Dobell preview Englandhis return to Test action in Pakistan, headlined by our interview with Mark Wood
– Mike Himselfy fear Englandits new approach will exclude great talent
– Dickie Bird and Geoff Boycott are reunited… in Barnsley
– John Etheridge reminiscent of the magic of Waqar and Wasim in 1992
– Barney Ronay pays homage to Virat Kohli'pp 'shot for a million'
– Tanya Aldred wonder how long England can resist Rehan Ahmed
– 'Whisper' Bob Harris tells us why he loves cricket
– Ours Christmas gift guide solves your current buying problems
– And much, much more…
---
Related topics
Make sure all fields are filled in before submitting your comment!