I Tried TikTok's Claw-Clip Ponytail Hack: See Photos
@emiliekiser

WHAT ARE WE THINKING?! I love it💗🫶🏼🧡✨ #hairtok #enkle frisyrer #viralehårstyler #cleangirl #cleangirlaesthetic #trending #viral #dayinmylife #grwm #skolefrisyrer #viralhestehale #clawcliphairstyles #amazonhair

♬ original sound – ALTÉGO
A Claw Clip Ponytail Hack Goes Viral on TikTok.
All you need to try it is a clip and a hair band.
An editor tested the hack on her fine hair and shares her results.
TikTok has no shortage of makeup and hair to consume, especially when it comes to claw clips. As someone who frequently scrolls through the platform for beauty tips, I'm sure it will come as no surprise that I've already mastered the double bun claw clip hack, the half up half down bun claw clip hack , and viral claw clip hack for layered hair. I thought I'd tested all the claw clip hacks the app had to offer, but it turns out there's another hiding right under my nose that might just be my favorite yet.
Officially called the "flip and claw clip" ponytail, I've seen many influencers test out the trend, but it was TikTok user Emilie Kiser's video that influenced me to try it out for myself. In the clip, which has 9.3 million views and counting, Kiser pulls her long blonde hair into a sleek ponytail, but adds tons of volume by adding the clip. The result looks like a full-on Ariana Grande ponytail, and I definitely wanted to recreate the look for myself.
Whenever I wear claw clips in my hair, I usually have a faux french twist, and when I wear a ponytail, I don't do anything fancy other than wrap a rubber band around my hair three times. I was interested to see if the results would work on my hair, which is nowhere near as long or as thick as Kiser's.
To test out the hack for myself, all I needed were my favorite claw clips – Tocess Big Hair Claw Clips (£22 for a pack of four) – and a hair band. As previously mentioned, my hair is on the thin side so I opted for the Goody Ouchless Hair Ties For Fine to Medium Hair (£7) instead of regular size hair ties.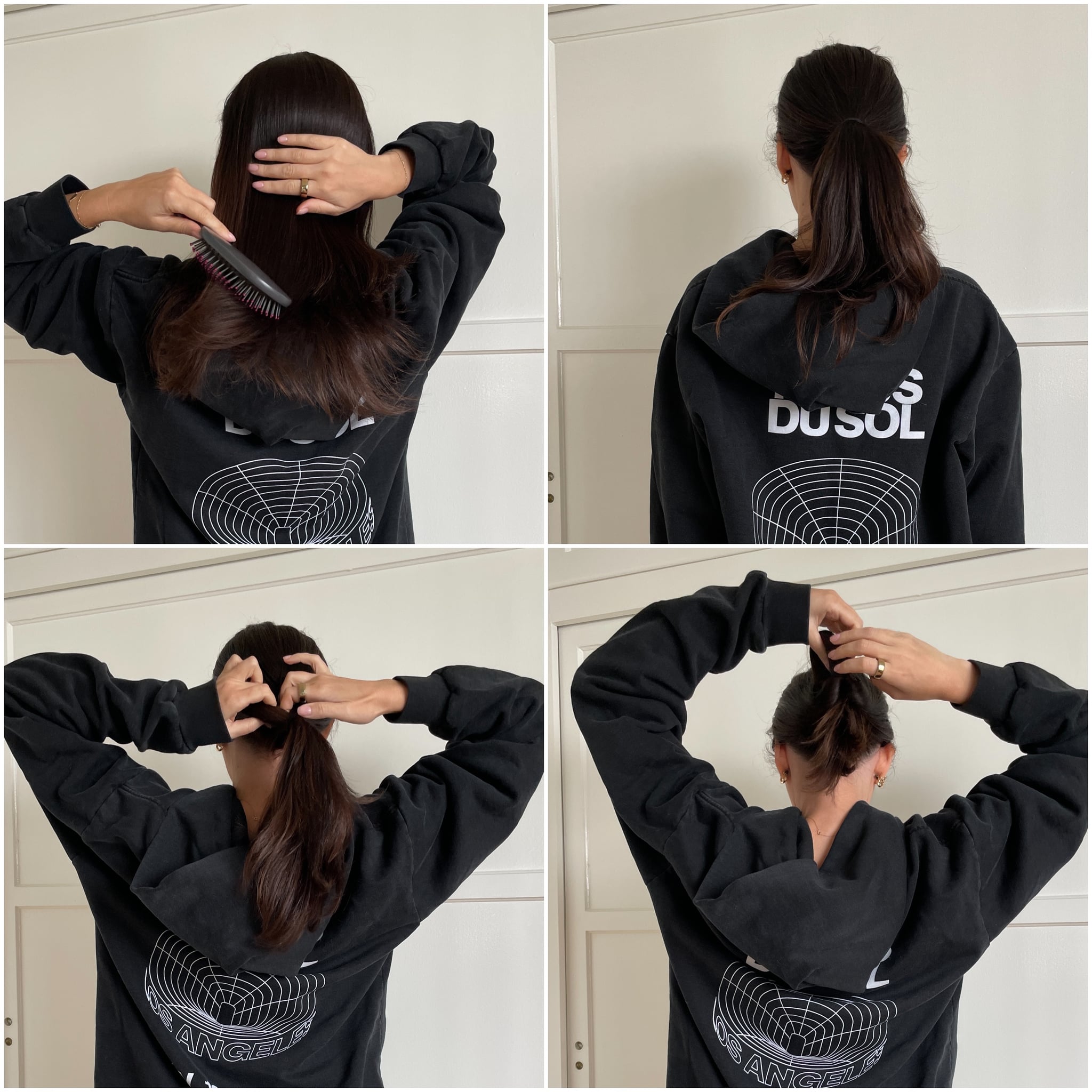 I started by combing through my hair making sure there were no knots or snags and I also added a few drops of Olaplex No.7 Bonding Oil (£28) to give me some shine. One thing all the people in the tutorial I watched had in common was long, full hair, but mine is frizzy and fine, so I wanted to make sure I gave it the right treatment before I started. Then I pulled my hair into a ponytail in the middle of my head and secured it with a rubber band.
From there, I made a hole in the top half of the pony using my fingers, and then I leafed the bottom half of the pony through the hole. To finish it all off, I placed the claw clip underneath at the base of my ponytail so that my hair fell over the top. Although it sounds a bit complicated, it's easy to get the hang of once you watch the video.
The end result looked even better than I thought it would – a voluminous ponytail with absolutely zero droop. Also, the style lasted all day without the need for touch-ups, which is a huge plus for me because I'm always on the go.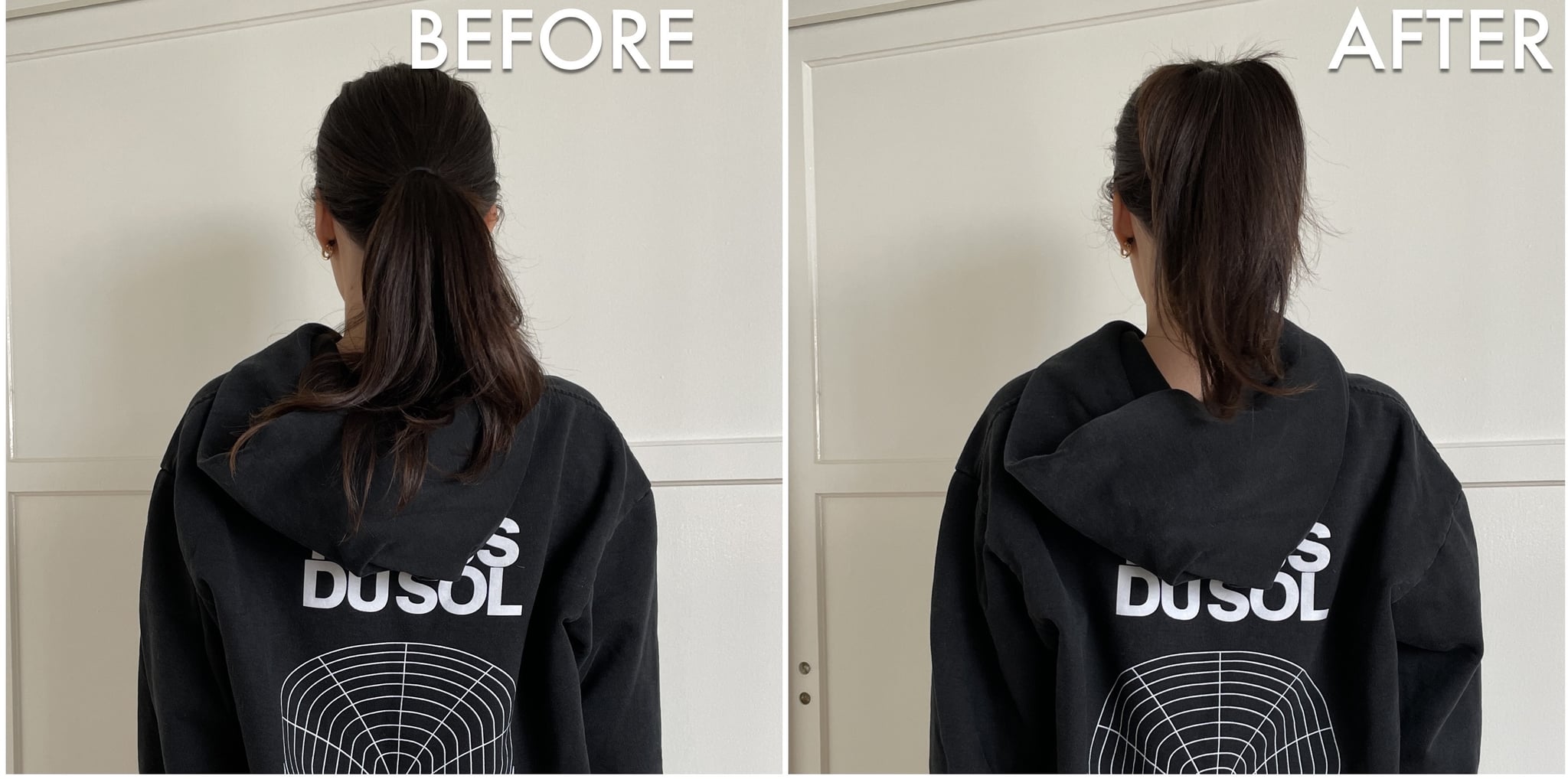 One important thing to note: after watching videos and testing it myself, I have come to the conclusion that this ponytail chop looks best on those with long and thick hair. It worked well on my medium length fine hair too, but if I wanted to see some extra volume in the future I would consider adding a couple of hair extensions to my pony.
Image Source: POPSUGAR Photography / Renee Rodriguez