How to set up a new Android phone
If you have a new Android smartphone or tablet and want to continue downloading apps and making calls, you've come to the right place. If the setup process seems a little daunting, don't worry, because we'll walk you through each step, explaining what you need to do.
Most Android phones and tablets will guide you step-by-step through the setup process. The experience may vary slightly depending on the brand of your device and the version of Android it is running. They're all very similar, but here we're using Android on a Google Pixel phone.
Time to complete:

15 minutes

Required tools: Android phone, SIM card, Wi-Fi connection
1.
Choose a language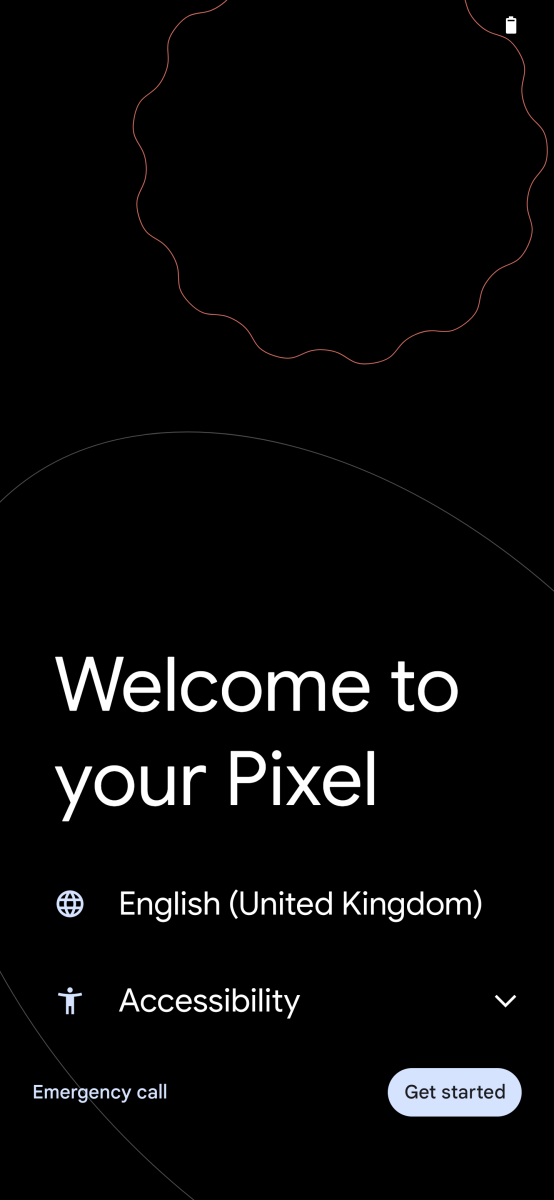 Henry Burrell / Foundry
First of all, the phone asks you to select a language. This will appear throughout the setup process and all of your phone's menus, so choose the right one!
Here you can also select the sight and voice mode if you require accessibility functions to be switched on now and throughout the use of the phone.
Now press "Get started" to get to the next screen.
2.
Insert the SIM card
Henry Burrell / Foundry
Here you are asked to connect to a mobile network. You can do this by inserting a SIM card into the phone.
In the packaging, there is probably an ejector tool to insert into the SIM slot hole to remove the board. Most modern smartphones take nano SIM cards, the smallest possible size.
Insert the SIM card you just got or the one from the old phone. If your device is unlocked for use on any network, or locked to the network of that SIM card, your phone should recognize the SIM card and give you access to your mobile plan.
Some phones allow you to choose to download an eSIM instead. This is an electronic SIM card that is stored on the phone without the need for a physical SIM card. Not all phones will give you this option.
If you don't have a SIM card or don't want an eSIM, you can tap "Skip" to set up your phone without a mobile network connection using only Wi-Fi.
3.
Connect to Wi-Fi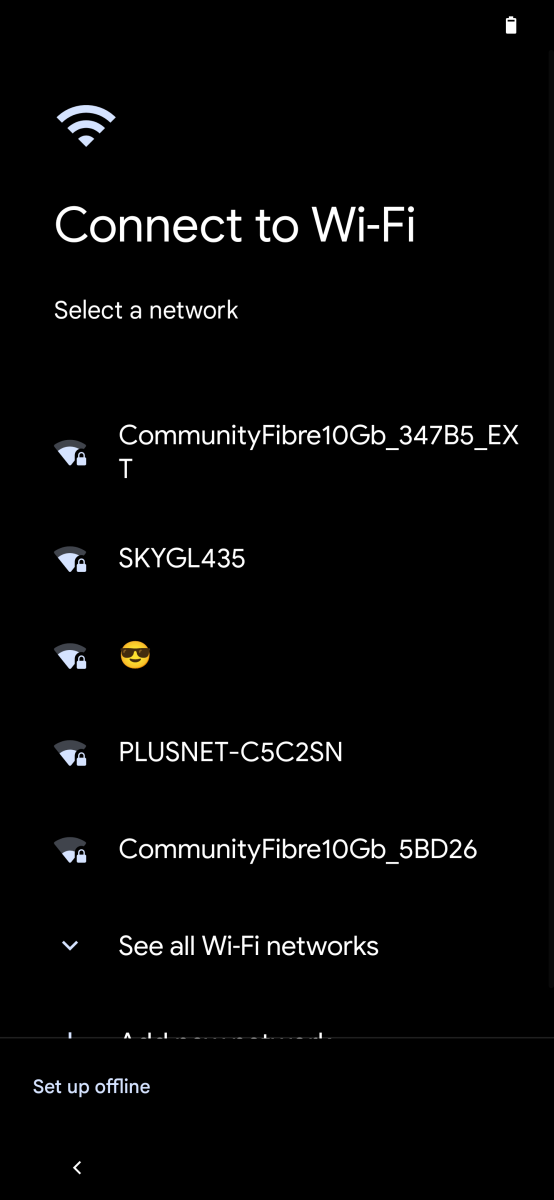 Henry Burrell / Foundry
You can connect to Wi-Fi now, whether you have added a SIM card to your phone or not.
Tap the Wi-Fi network you want to connect to, then enter the network's password. If you don't know it, it can usually be found on the back of your Wi-Fi router.
Your phone will then connect to Wi-Fi and continue setting up
You can select "Configure Offline" if you'd like, but you won't be able to sign in to your Google Account without cellular data or a Wi-Fi connection. This is required to download apps and use your phone online.
4.
Copy data from old phone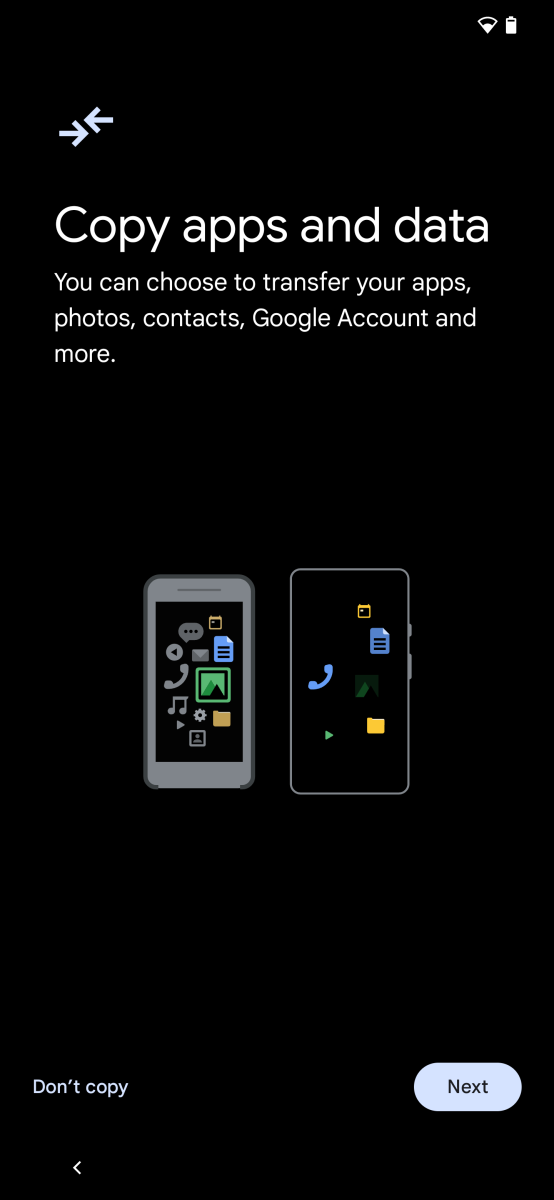 Henry Burrell / Foundry
Then the phone will give you the option to copy apps and data from the old phone. This includes your Google Account, and also data such as text messages, photos, videos, apps and settings.
You can select "Don't copy" here if you want to set up your phone as new without old data, or "Can't use old device?" if you don't have access to your old phone.
If you want to copy data, press 'Next'.
You can then use the old device to copy data. At first the phone will suggest that you need the correct cable to do this.
If you have a cable with the correct two port connections, you can press "Next" and follow the on-screen instructions.
If you don't have the correct cable, you can still copy your data, but it will take longer. Tap "No cable?" or 'Copy without cable'.
The layout will give you different options depending on what you choose. You can also copy data from an old Android phone or an iPhone.
This stage may take several minutes, depending on how much data you want to move. Please be patient!
5.
Add Google account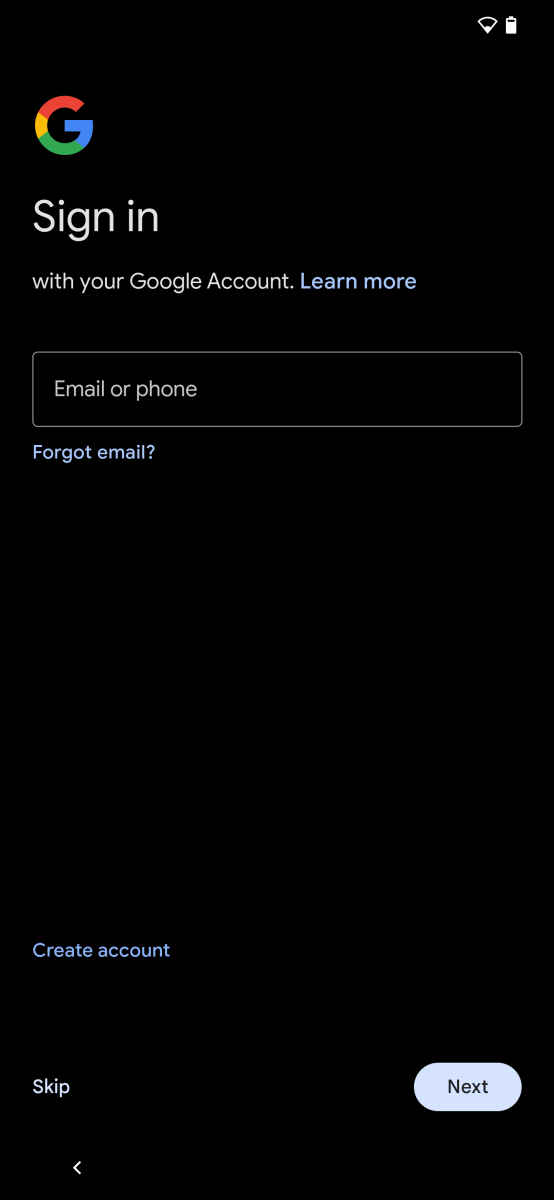 Henry Burrell / Foundry
Whichever option you choose from the last step, at some point your phone will ask you to sign in to your Google account. If you don't have an existing one, you can create one here. This will give you a Gmail email address which is required to use an Android phone.
You can then choose what you want to copy over from the old phone. You can choose as much or as little as you like.
6.
Accept Google settings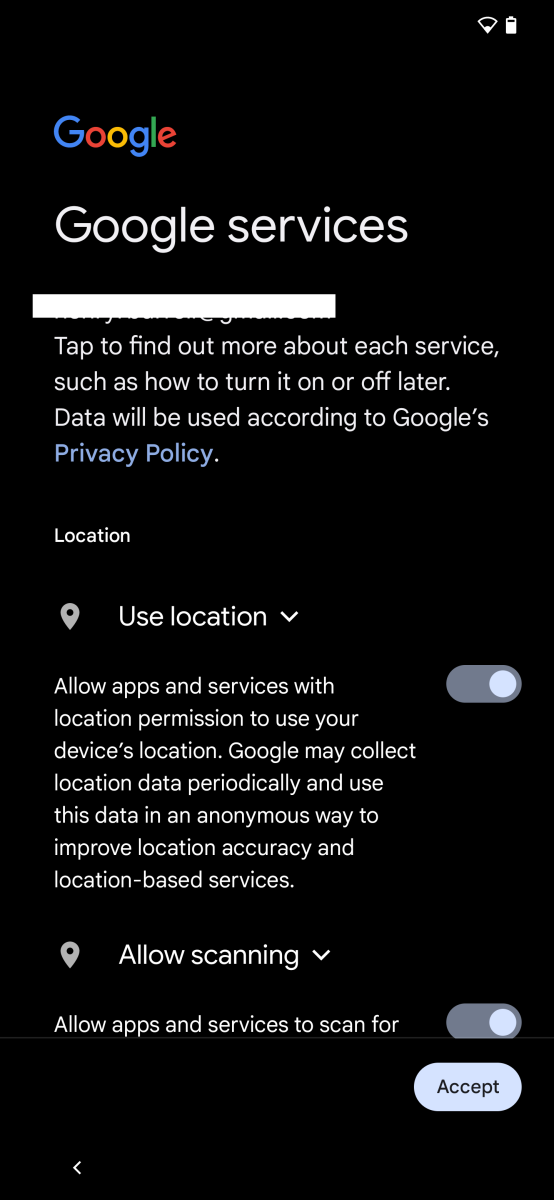 Henry Burrell / Foundry
After you copy data from another phone or skip that step, your Google account will be added to the phone
Here, the setup will tell you whether you want to turn on things like location services, app scanning and whether you want to send usage and diagnostic data to Google.
You must choose yes to location and app scanning if you want all services to work properly on your phone. In modern Android, you can later stop certain apps from accessing your location if you don't want them to. Think of this step as a master on switch – you need to say yes if you want common apps like Google Maps to work.
Press "Accept" when you have selected what you want.
7.
Accept or decline Google One backup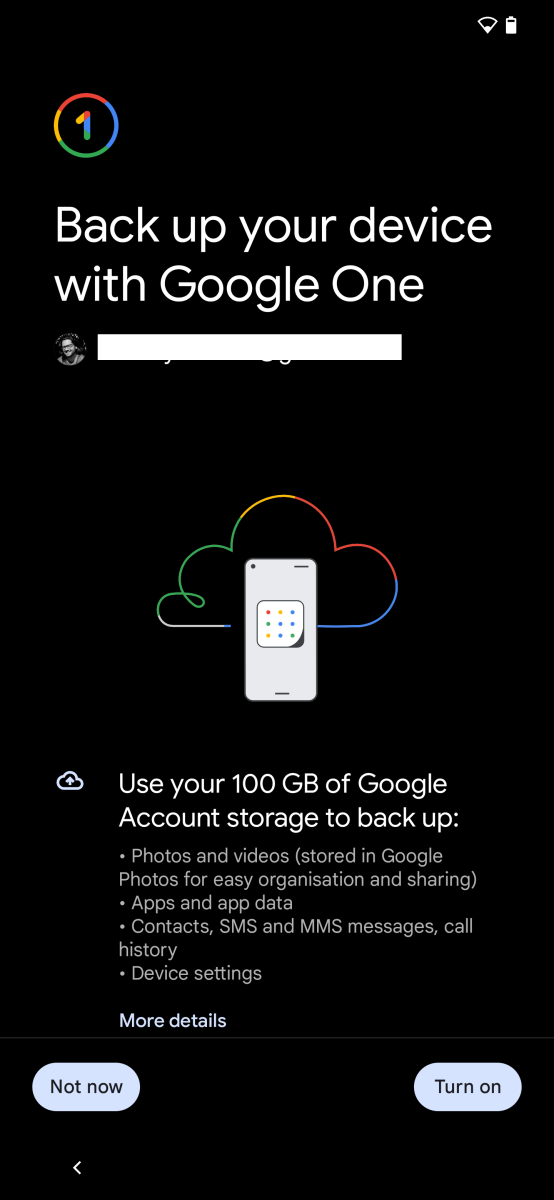 Henry Burrell / Foundry
With a Google account, here you can turn on the backup of the entire device with Google's One service. This is a service built into your free Google account that backs up data and settings on your phone to Google's cloud servers.
If you lose your phone, you can use this cloud backup to restore your data and settings to a new phone. You get a few gigabytes (GB) for free, but you'll end up paying a small monthly fee for Google One if you want more storage. Here's our Google One guide.
Press "Not Now" or "Turn On" to continue
8.
Enter PIN code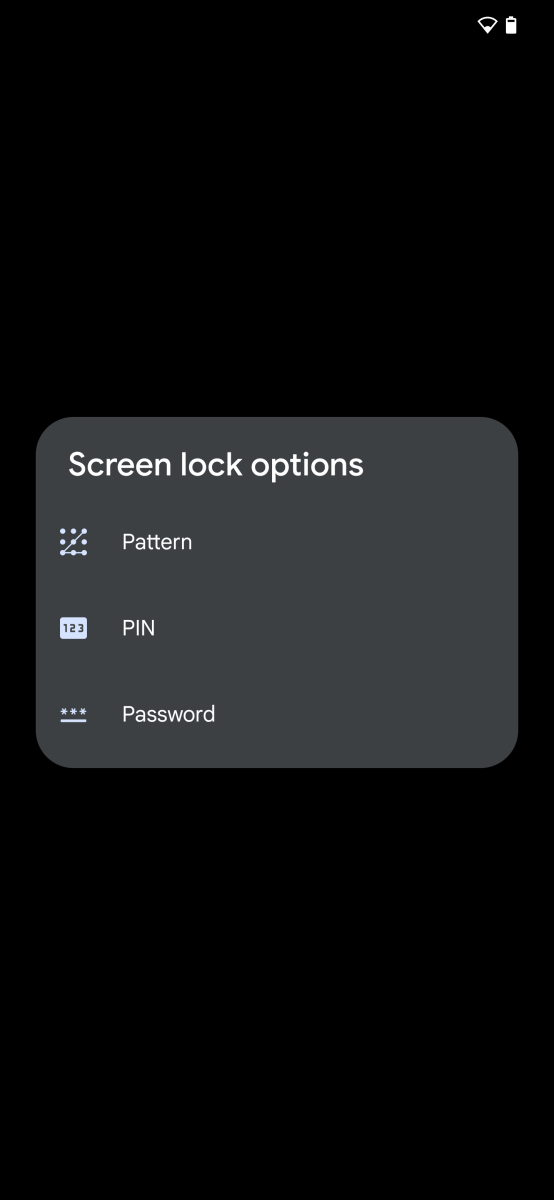 Henry Burrell / Foundry
You can now enter a PIN code. This is recommended as it prevents someone from unlocking the phone if you lose it.
By default, Android will ask you to enter a PIN of at least 4 digits. The longer the number you choose, the better.
If you tap "Screen Lock Options", you can alternatively choose to set a pattern or password.
Enter your choice twice according to the on-screen instructions to continue.
9.
Set up fingerprints
Henry Burrell / Foundry
Some phones have built-in fingerprint sensors that let you unlock your phone with your thumb or fingerprint, as well as authorize things like in-app payments.
Follow the on-screen instructions to set up your fingerprint.
10.
Continue configuration or add later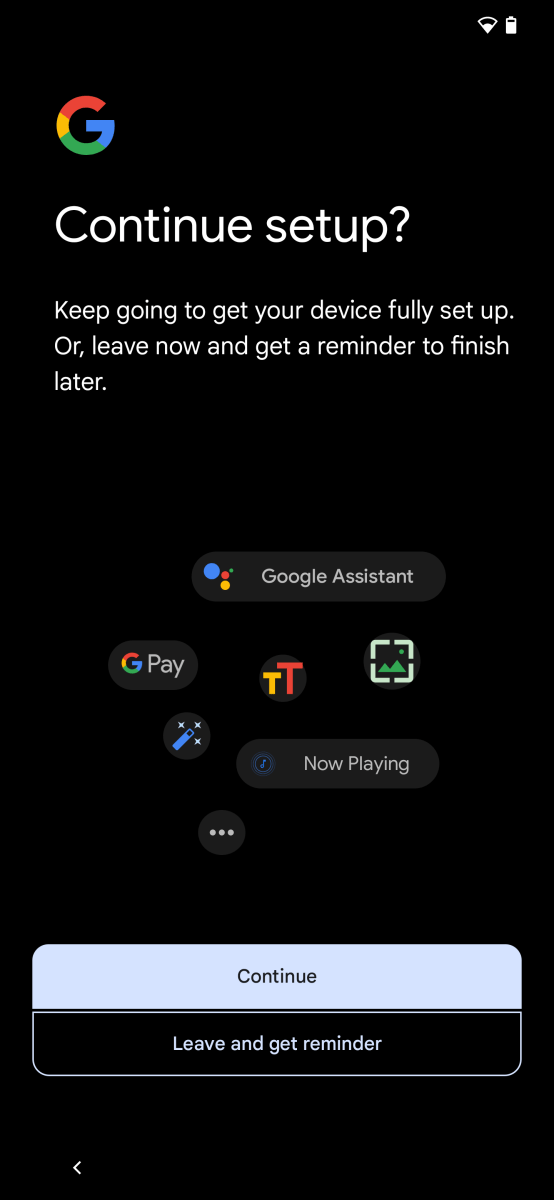 Henry Burrell / Foundry
Many Android phones will at this stage ask you if you want to continue the setup. This includes things like setting up Google Wallet for debit and credit card payments, choosing text size on your phone, and more.
You can press "Continue" or "Leave and be reminded". The latter will ensure you get a notification later to do this step.
11.
Movement training
Henry Burrell / Foundry
Now you are almost there.
Modern Android is navigated with gestures, and your phone can show you how here.
Most will ask you to swipe up from the bottom of the screen to go home, swipe up and hold to enter the app chooser, and swipe in from either side to go back. There may be a guide you can use for this at this point.
12.
You are finished!
Henry Burrell / Foundry
You are finished!
Enjoy your new Android phone.
We've got plenty of other useful Android guides at Tech Advisor to help you get your hands on that new phone, like our list of the essential Android apps and the best Android games for a new phone or tablet.
You can also find tutorials like how to restore WhatsApp messages on a new phone when you set up the new phone.