How to lock hidden photo album in iPhone with iOS 16
We all have some private photos that we want to keep under wraps or from prying eyes. Although the Apple Photos app already offered a way to hide photos on iPhone, anyone could easily access your hidden album. That's why most iOS users rely heavily on photo vault apps to keep their personal photos safe. However, if you have installed iOS 16, you can now lock your hidden photo album with Face ID/Touch ID on iPhone and iPad, so that no one can access your private photos without your permission. So here's how to lock the hidden photo album in iOS 16.
Apart from letting you secure the hidden album, iOS 16 also lets you protect the "Recently Deleted" folder where deleted photos and videos remain accessible for up to 30 days. From a privacy perspective, this is well thought out. Many times we tend to delete some personal photos and forget to delete them permanently. As a result, they continue to exist on the device. But with this new privacy feature enabled, you no longer need to worry about the protection of the deleted photos as well.
1. First you open The Settings app on iPhone or iPad.
2. Now scroll down to find The Photos app and select it.
3. Make sure the switch next to Use Face ID/Touch ID is switched on.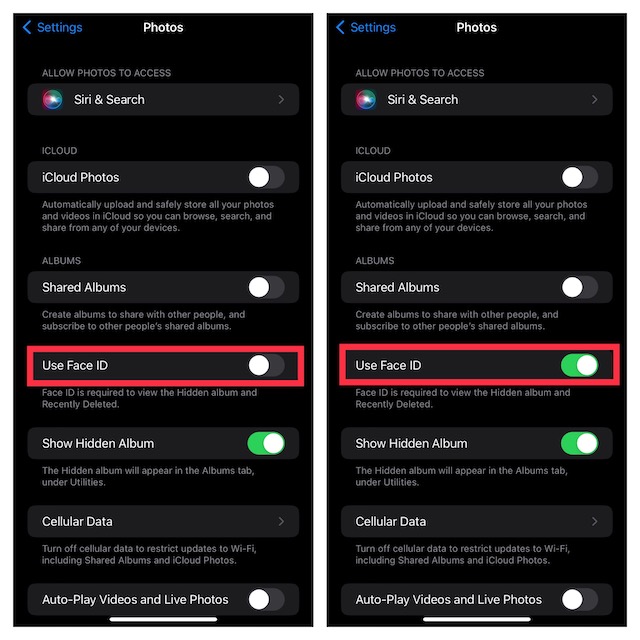 From now on, a small lock icon will appear next to both the hidden album and the recently deleted folders. It is worth pointing out that if someone tries to turn off this feature, he/she must first authenticate with Touch ID or Face ID. So you can rest assured that your photos are safe.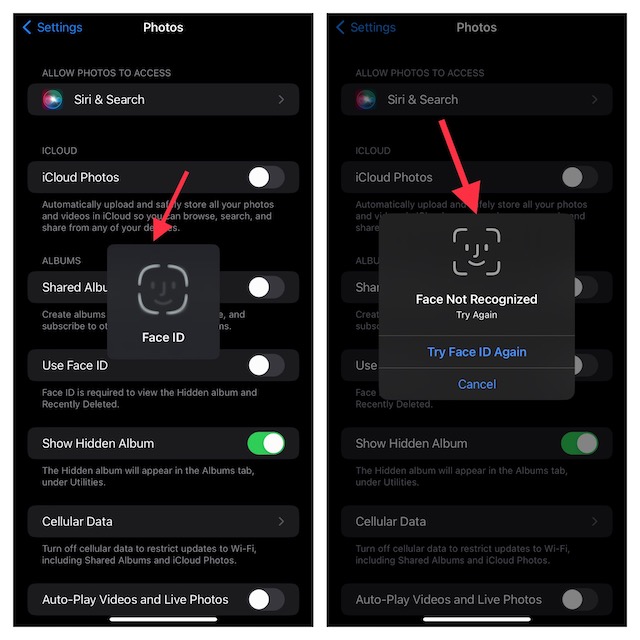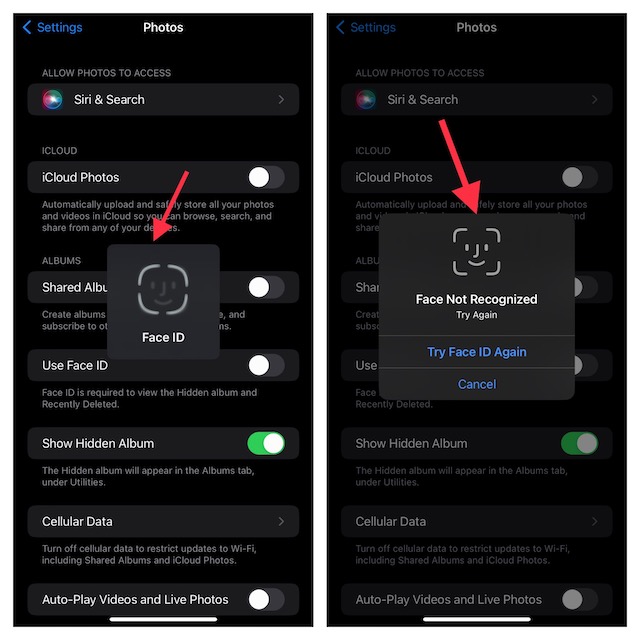 Unlocking the hidden photo album is as easy as it ever gets.
1. Open on iPhone or iPad The Photos app and then press Album tab at the bottom of the screen.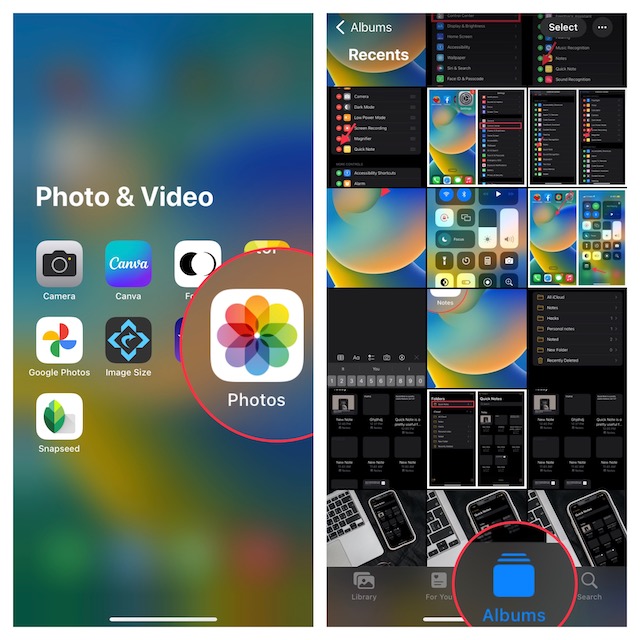 2. Below Tool section, press Hidden and then authenticate with Touch ID/Face ID to view your photos. And if you want to check out your recently deleted photos, tap Recently deleted and then authenticate.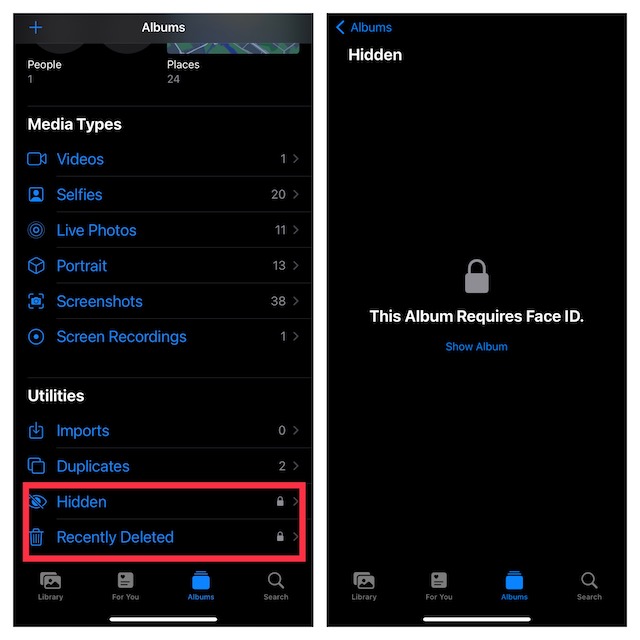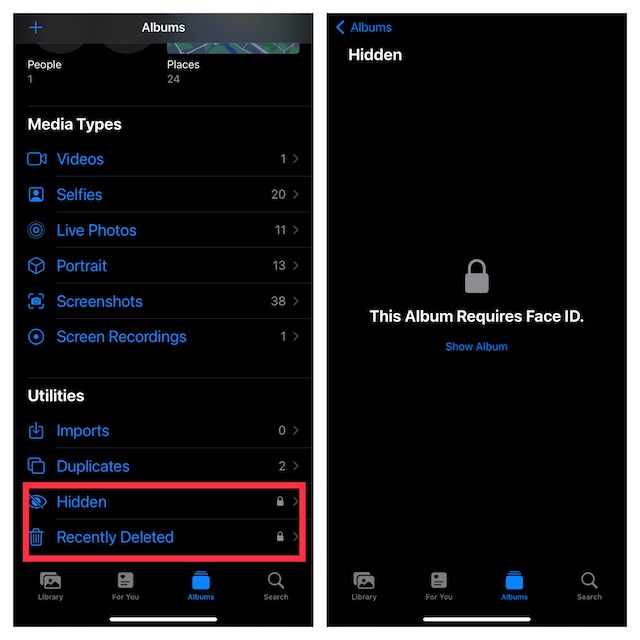 Give any family member/close friend access to your locked private photo album
What if you want to let one of your friends or loved ones have unlimited access to your hidden album? Well, you can ask your friend to set up an alternate look on your Face ID enabled device or add a fingerprint on your Touch ID equipped device to have unlimited access to the hidden album.
1. Go to The Settings app on your iPhone and select Face ID/Touch ID & Passcode.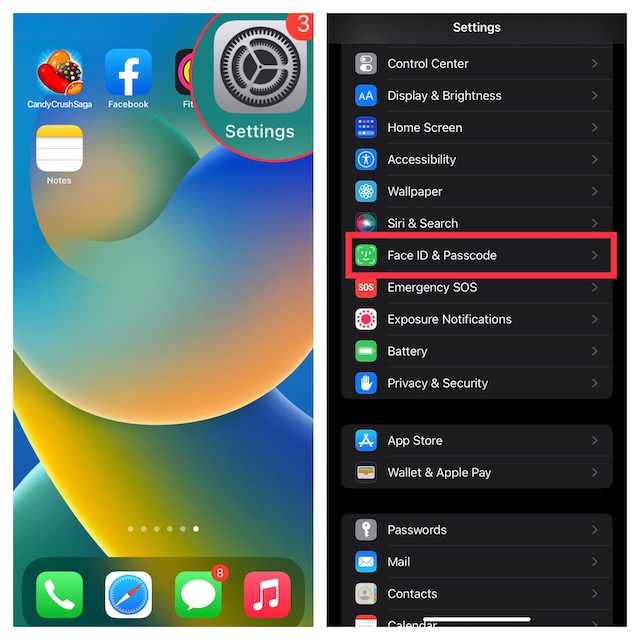 2. Now either set up an alternate appearance or add a fingerprint based on availability.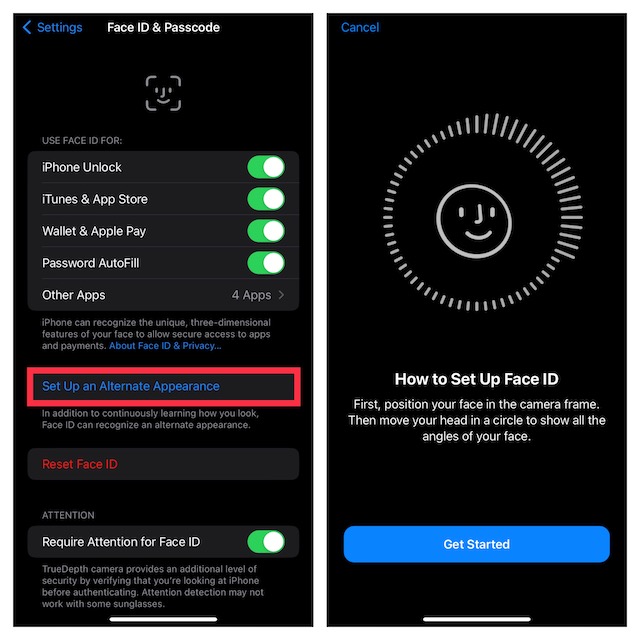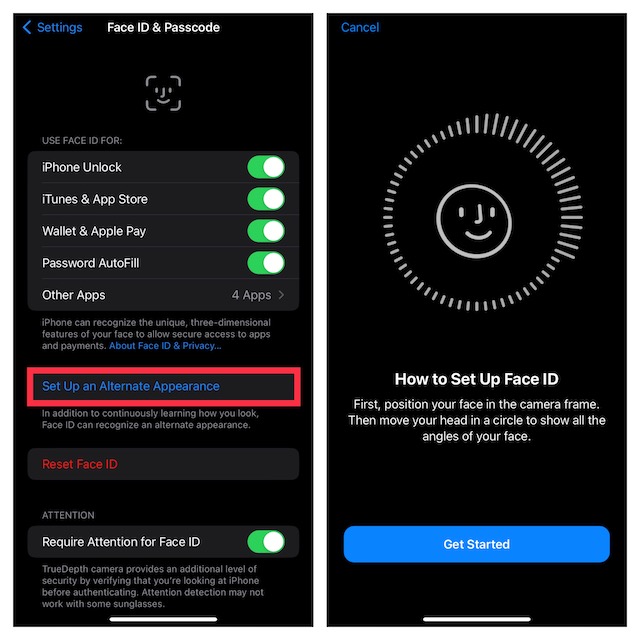 Going forward, your friend will be able to see your hidden photo album using Face ID or Touch ID as well.
Keep your personal photos safe from prying eyes
Well, that's how you can lock your hidden photo album in iOS 16. This new feature is a welcome addition for iPhone users who had to rely on third-party apps to protect their personal photos. Since the feature is built into the Photos app, you don't have to worry about a third-party app stealing your data or uploading your photos to the cloud either. So, have you started to lock your hidden and deleted albums on iPhone? Let us know in the comments.