CES is happening right now in Las Vegas. The entire show is a spectacle, with participating companies showcasing the latest technology of all kinds – from everyday products like phones and tablets to slightly stranger food like a connected urinalysis device and battery-powered TVs.
Google didn't have much new to show this year, but it set up an Android showroom outside the sprawling Las Vegas Convention Center where most of the action has been this week to highlight what's been happening in the Android world lately. If you're curious about what it's like inside, you're in luck: we took tons of pictures, and you can see them all here.
Space
Google's "booth" is actually a free-standing structure just outside the convention itself. It is very google, with elegantly designed, minimalist staging areas for demonstrations of a bunch of Android ecosystem features.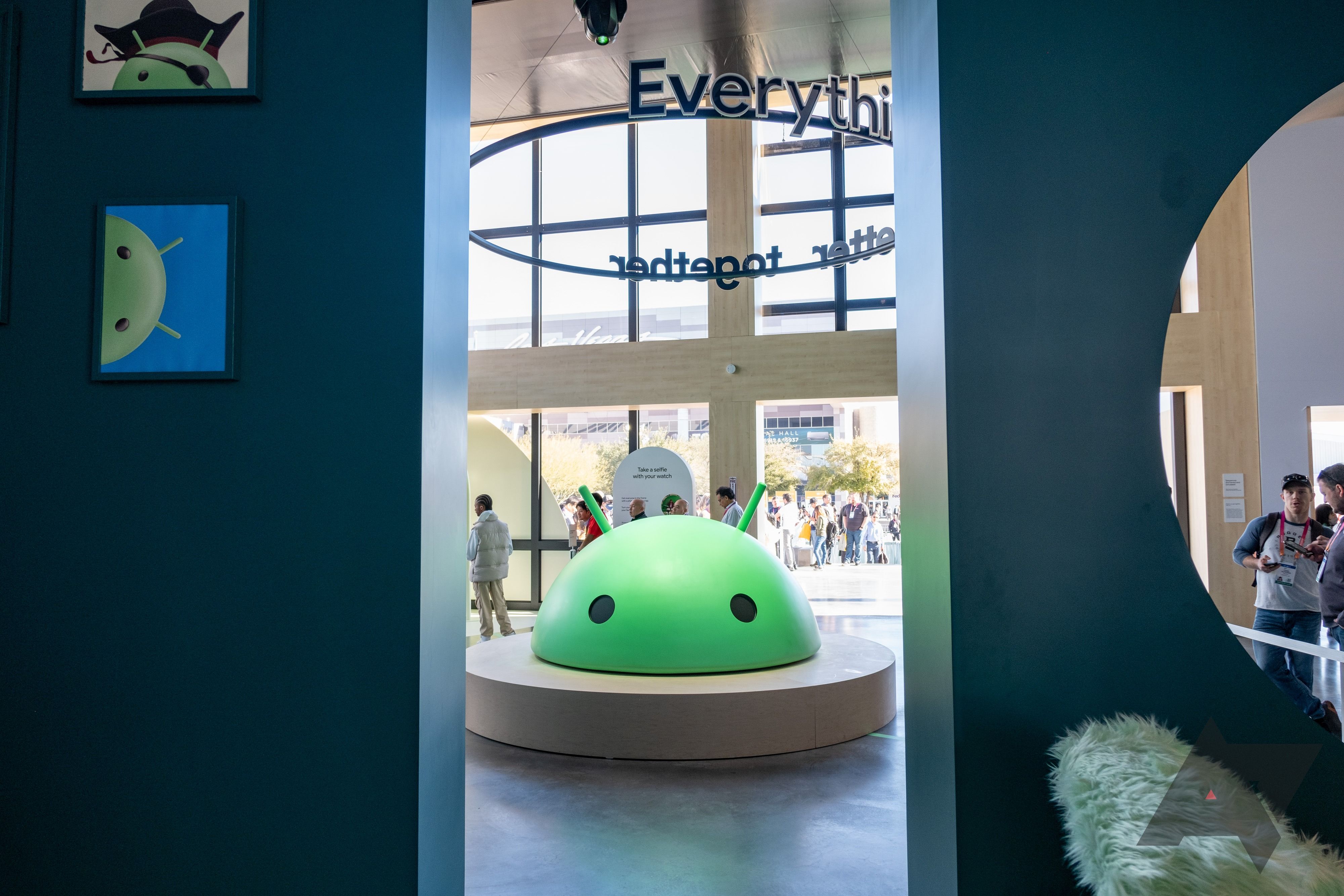 The exterior of the building has a billboard-sized screen running through a bunch of cute Android graphics. Inside, the showroom is modern and spacious – although the crowds that have filled it all week make it feel a little less spacious. It's obviously chock-full of Google gadgets, but there are also third-party devices scattered throughout. Google is really trying to push the idea of ​​Android as a cohesive ecosystem this year.
There's a bunch of cool Android-themed decorations around, including a blue, camouflage-patterned bug droid hanging from the ceiling and a very charming topiary. Google has also put some minor embellishments in less obvious places, like the little light-up Androids you can see here that are near the floor.
Much of the space is dedicated to showing how you can easily control media and smart home devices using Google products. There are staging areas for automation, Chromecast audio switching, Google TV and more.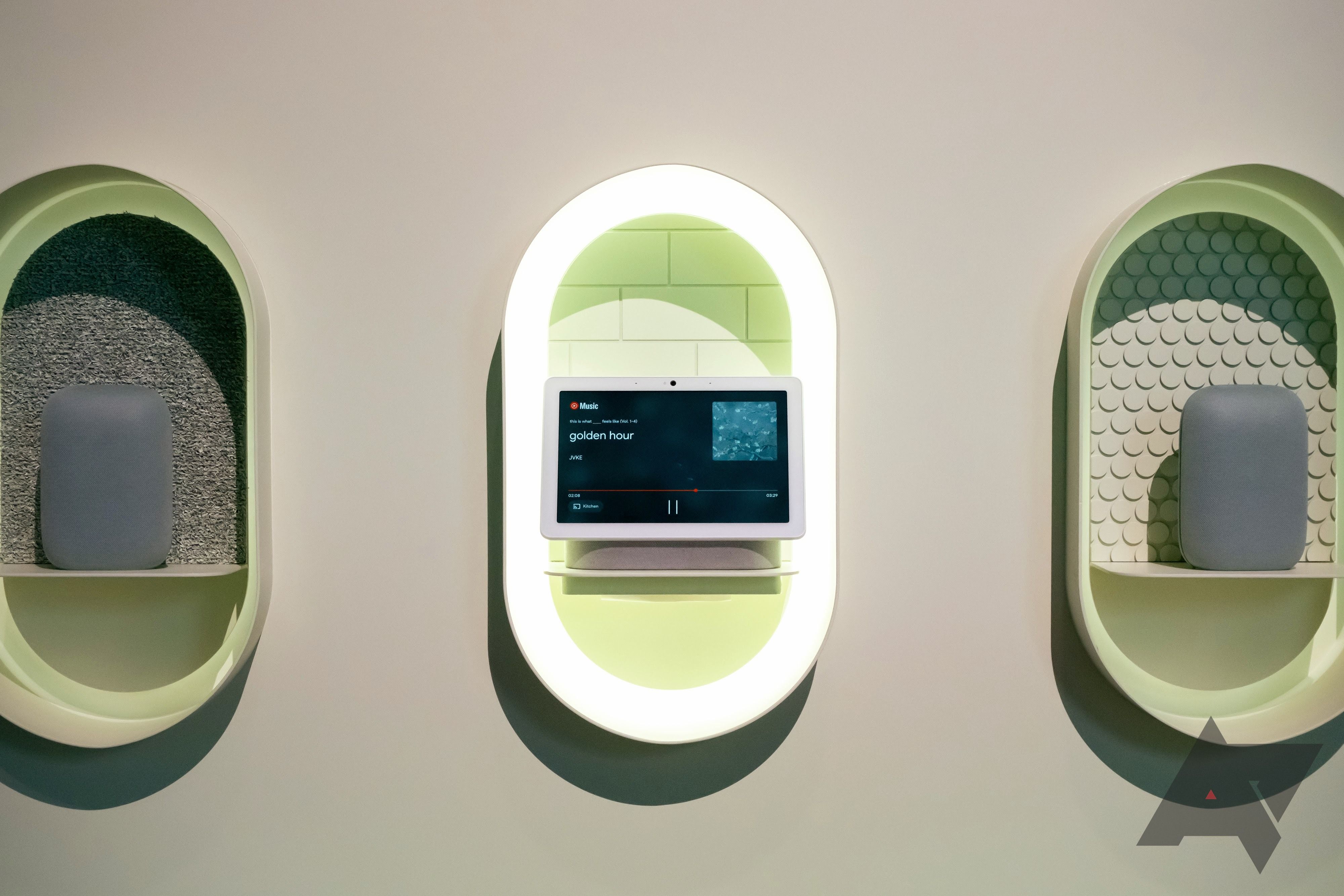 Much of what Google shows here has been around for a while, but it found clever ways to highlight its functionality. One area shows how you can link automations to alarms to do things like turn on lights or coffee makers automatically when you wake up; another shows how easy it is to move audio streams between different Assistant devices.
However, there are a few new things. While it's already possible to move your YouTube Music stream between Assistant speakers right from the notification panel, Google announced that this functionality will soon be coming to Spotify, where it will work with both Assistant and Spotify Connect-enabled speakers. You'll also eventually be able to receive pre-emptive alerts to switch media playback to the nearest speaker, so you don't have to dig through any apps to get your music moving with you.
Android Auto
Google talks up Android Auto's big new redesign at CES. The company officially announced the update way back at I/O 2022, but it's finally rolling out to everyone.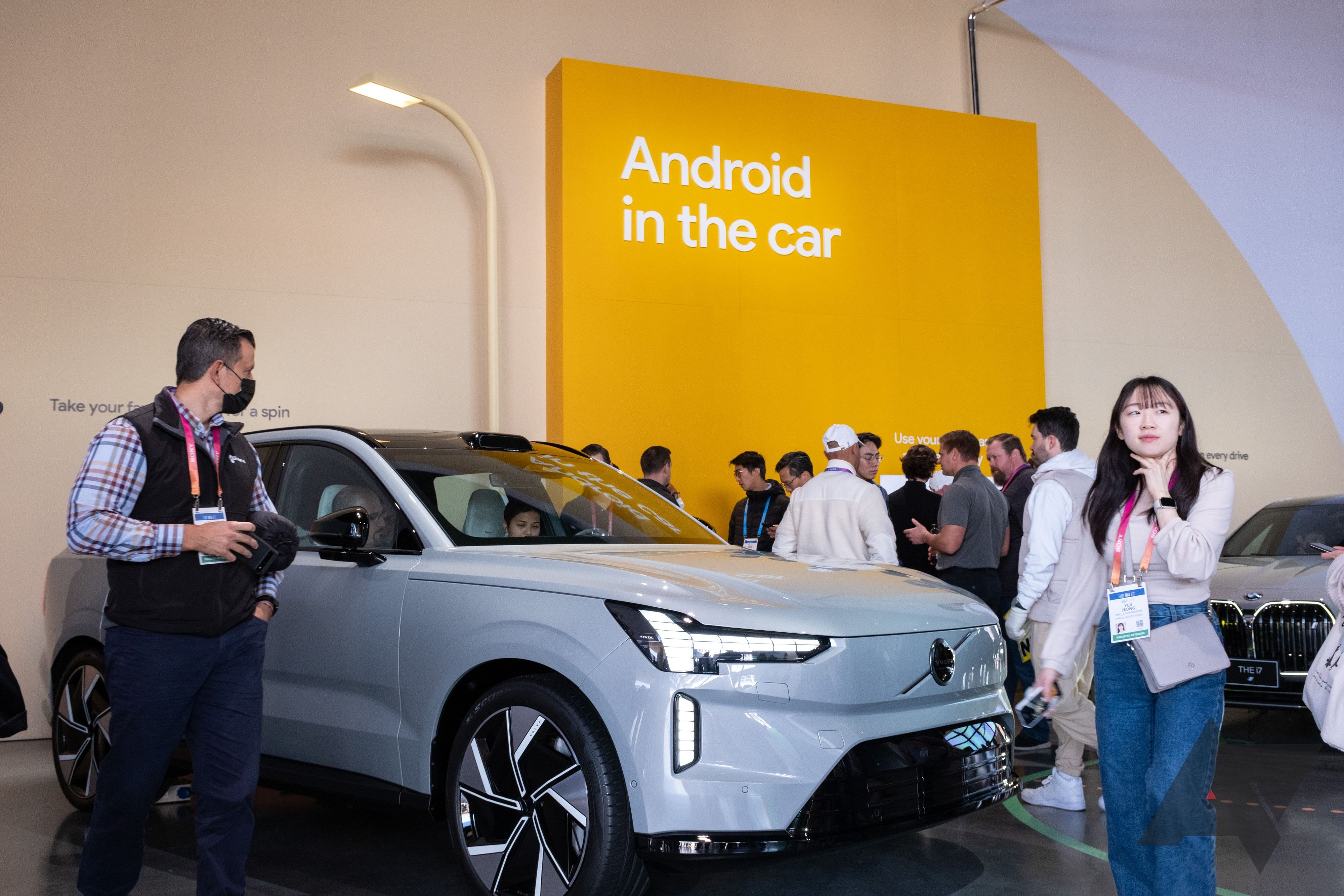 Google offers in-vehicle demos, and the cars they brought to do so are pretty flashy. There's a BMW i7, plus Volvo's unreleased electric SUV, the 2024 EX90.
The two cars have different screen form factors, so they're a good way to show how adaptable Android Auto is. However, the wait to get into both vehicles has been long.
Use the OS
There's a handful (handful? No? Sorry) of Wear OS demos set up, showcasing both new and existing features.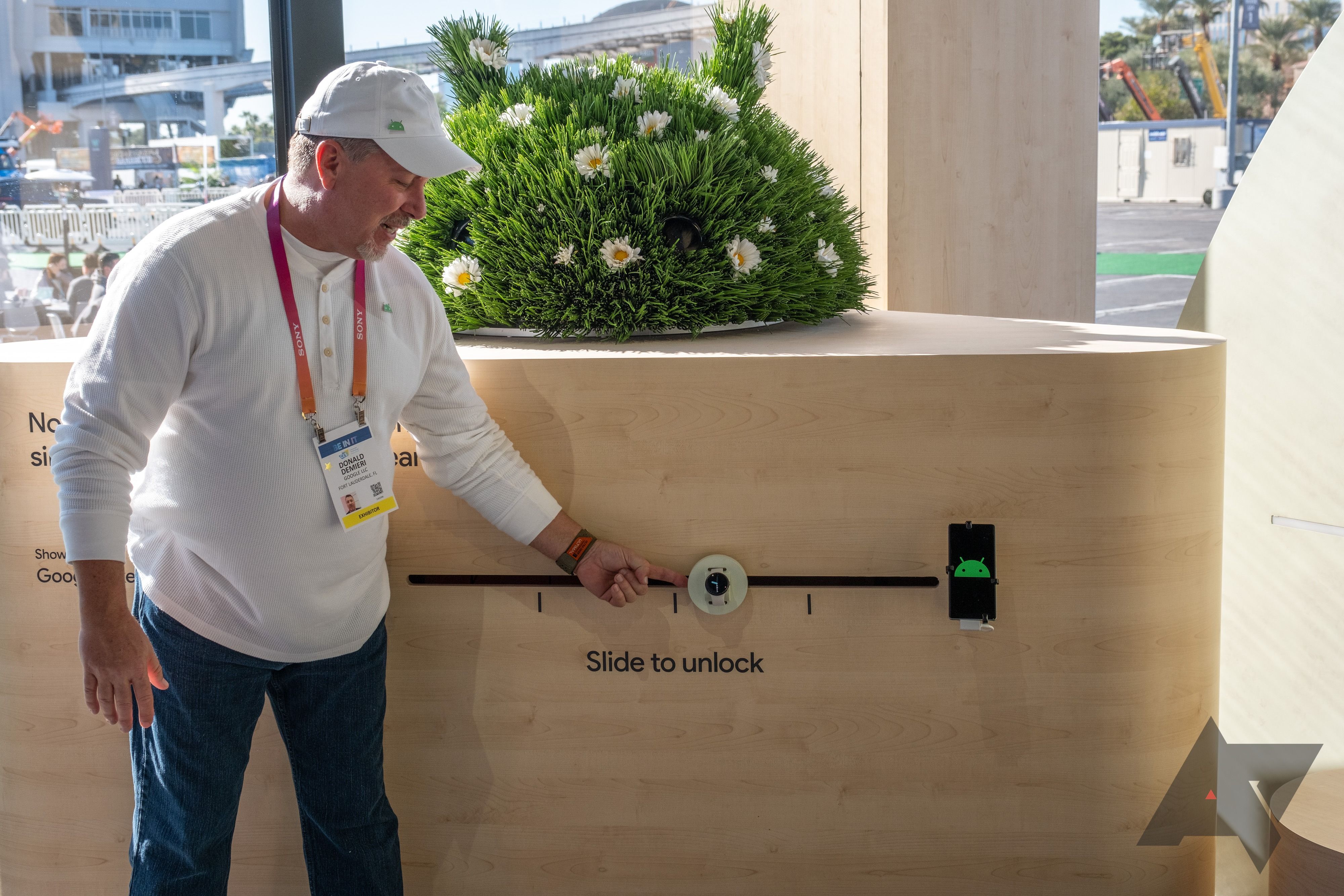 There's a station where you can take a selfie on an Android-themed bench using a Wear OS watch (not pictured here, unfortunately), one where you can get information about the Pixel Watch's Fitbit integration, and a demonstration of control of smart home devices via the relatively new Wear OS Google Home app.
The biggest news here is probably Watch Unlock, a Pixel Watch feature that keeps your phone unlocked only when you're wearing the watch, as opposed to the existing Smart Lock option that lets you bypass the lock screen every time the watch is connected (whether you're wearing say so or not). It's a more secure setup, but some things like contactless payments will still require unlocking the phone manually. We don't know exactly when Watch Unlock will roll out, but given that it's being shown off at CES, hopefully it'll be soon.
…And the rest
There are also demos of a few more existing features, plus the obligatory display of Google hardware.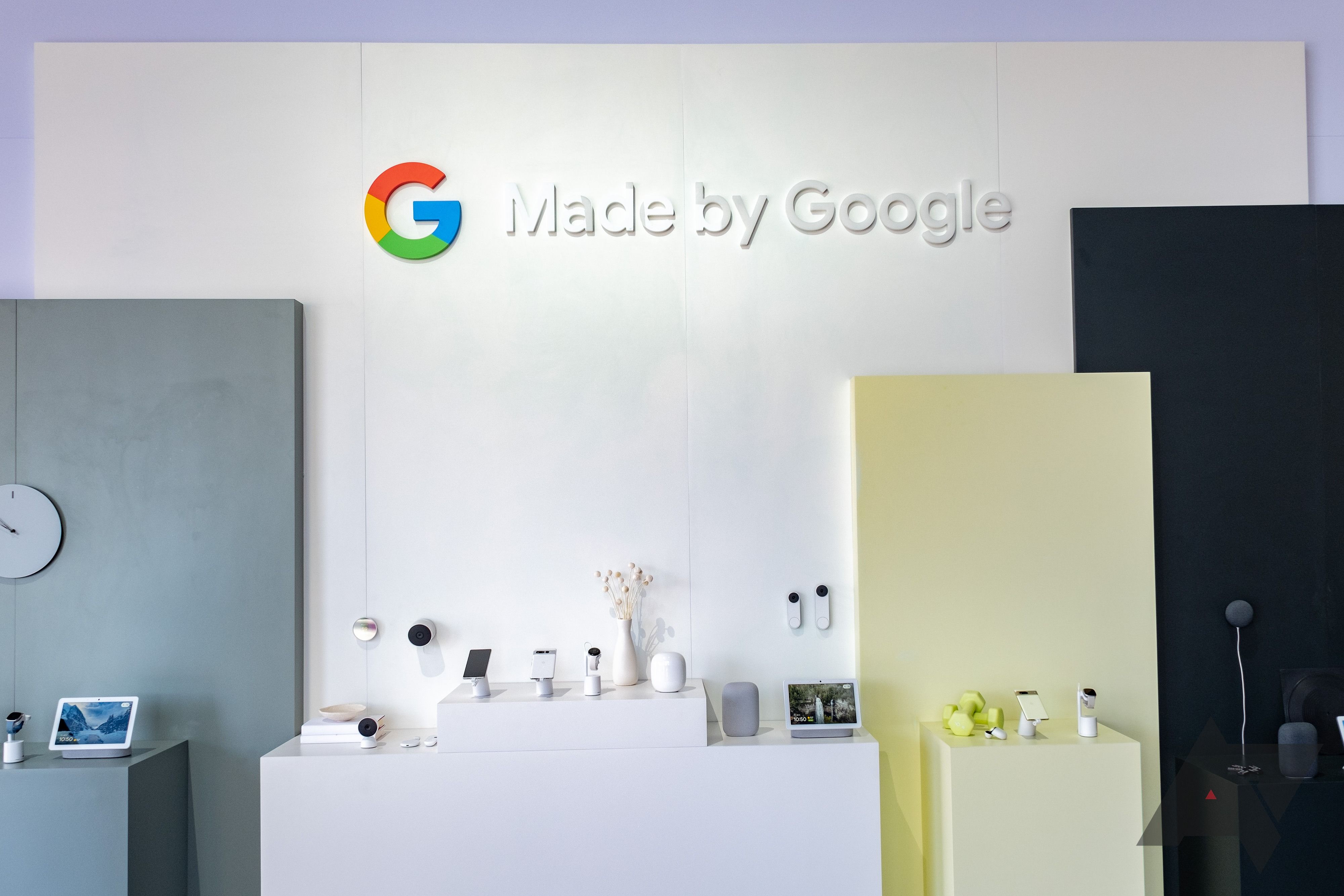 An interesting display is about an accessibility feature called sound alerts, which allows the phone to listen for sounds you choose to receive alerts. It's primarily intended to help people with hearing loss – for example, if you have trouble hearing the doorbell, you can set up Audio Alerts to deliver an alert when it rings. There's a list of pre-programmed sounds, or you can set up custom alerts for anything you need to be aware of by recording your own sounds to listen to.
Google is also demonstrating Nearby Share in an area where you can design your own custom bug droid (mine is the blue one in the ballcap) and then send it wirelessly to a number of nearby tablets with a few taps. There is even a working slot themed around Fast Pair. You can't actually try Fast Pair — there are dozens and dozens of phones around, and they'll all see the notification — but the machine dispenses green M&Ms and jelly beans, which is a fun touch.
While there wasn't much new for Google to show off at the convention, this year's display is still a lot of fun. Want more CES? Check out our new favorite gadgets from the show.