Hack-and-slash action RPG UNDECEMBER now available worldwide
Free-to-play hack-and-slash action RPG UNDECEMBER is now available for PC via PC via Steam and FLOOR, iOS via the App Store, and Android via Google Play worldwide, publisher LINE Games Corporation and developer Needs Games announced. It supports a total of 10 language options, including English, French, German, Japanese, and Chinese (Simplified and Traditional).
The global launch build features up to 10 stories and various challenge modes, including "Chaos Dungeon", "Spire of Barrier", "Void Rift" and cooperative "Raids". The game's "challenging bosses with dynamic attack patterns and various gimmicks" promise to constantly motivate players to experiment with skill combinations and equipment settings.
Players who log into the game during the first week of release will be able to participate in a launch login event and mission festival to receive various in-game bonus items.
UNDECEMBER supports cross-platform play between PC, iOS and Android, and can be played with keyboard and mouse, touchscreen or gamepad.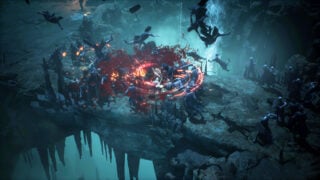 Here's an overview of the game, via LINE Games:
About

UNDECEMBER is a hack-and-slash action RPG where players can surpass the conventional limits of skill by endlessly combining various skill and link runes. Become a Runehunter and experience the joy of farming and growth!

History

Birth of the 13th being, the evil god serpent.

The light came from the darkness, and that light split into 12 different divine beings.

The 12 beings who rose from the Void shared their powers to create Traum and lived peacefully among their descendants. The descendants prospered under the blessings of the 12 beings who were now worshiped as gods. But one day, an unexpected being, the evil god Serpens arrived.

Important functions

Unchanged

The fun of hack-and-slash comes from wiping out countless enemies at once. As a genre where character growth is tied to destroying enemies to obtain new items, focus was placed on the suggestion of "gaining strength after wiping out enemies" during development. Moving away from the typical growth system, players will be able to enjoy completing their own unique builds.

Undefined

Freedom to choose different fighting styles. There are no defined classes in UNDECEMBER. Once a character is created after customization, players will be able to freely switch around gear and skills based on personal playstyle. The builds are divided into Strength, Dexterity and Intelligence types, but there are no equipment or combination restrictions. Players are free to cast magic with a sword or summon minions with a bow, or create their own new unique buildings.

Unlimited

Infinite combination of skills. Runes are classified by Skill and Link Runes. Link Runes help the effect of Skill Runes. These runes can be equipped in a separate room called Rune Cast, and can be obtained through farming or by completing quests. Each Rune has levels and grades, which can be upgraded with materials obtained through farming.

Unstoppable

Infinite choice of content:

Actions – The main scenario of the game.
Chaos Dungeon – Endgame content available after completing the main scenario.
Boss Raid – A cooperative content with up to eight players.
The Crusade of Glory – A free-for-all player-versus-player content.
The clan – Collect up to 50 members to get exclusive benefits like Guild Buffs.
Watch a set of gameplay trailers below.
Battle trailer
Action Boss Combat Trailer