Graham Potter must get time at Chelsea, otherwise ambitious coaches are doomed | Chelsea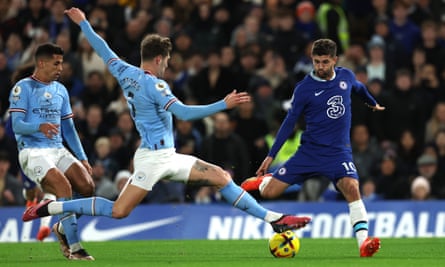 The problem for any coach when they go up to a big club is that until they have succeeded at that level, the suspicion will always hang that they cannot succeed at that level. That's one of the difficulties of the modern game: managing an elite club, with the huge budgets, the huge expectations, the array of egos in need of constant maintenance (which these days seems to apply as much to fans as players), is a completely different job of making it a touch down the leagues.
As a Premier League director once put it to me, saying his club should immediately replace the manager who had just led them to promotion, you don't put the guy who runs the corner shop in charge of a multinational. Which is true, although the idea that football is somehow too loyal takes some getting used to – a function, as much as anything, of the economic stratification found in the game. Corner shops do not become multinationals overnight; there are no outlets equivalent to winning the playoffs.
But how do you know who can run a multinational? In business, you can market from within, bring in someone who is impressed in a large region. Or perhaps you hope to lure someone from a similar position in a slightly different field. Or you look to someone in the same field who has been in a slightly smaller company. But very few football clubs are going to put the head of the academy in charge of the first team, no matter how successful they may have been; they just feel like different jobs. Nor is a football club going to poach Gareth Batty and hope the qualities that made Surrey county champions can be transferred to football. And then they look at coaches who have been successful in slightly smaller clubs.
And that's where, if you're Chelsea, you get into trouble because there are very few clubs that are slightly smaller than you. If you look at someone from a club of a similar size, you are realistically looking at someone who has failed elsewhere. Or, given the wealth of the Premier League, you look abroad, in which case there will always be questions of adaptation to our league. Or, you look down the Premier League table and then there will always be the question of whether the manager is able to step up.
Graham Potter's work in Östersund, Swansea and Brighton was exemplary. He has shown himself to be smart and adaptable, tactical and emotional. He was fortunate that the Chelsea opportunity came a month into this season when Brighton were fourth after four wins from their first six games, but that doesn't devalue his achievements (though it's worth reflecting on, for what it says about football's short-termism (as much as anything, had Thomas Tuchel been sacked at the end of last season rather than at the start of this one, Brendan Rodgers would have seemed the obvious candidate).
But now, because Potter has never worked at this level before, because he has never dealt with this level of players before, a run of one win from the last eight Premier League games (and Chelsea were not particularly impressive in the three games before that , although they were all won), the question is inevitably there: can he hack it with a super club?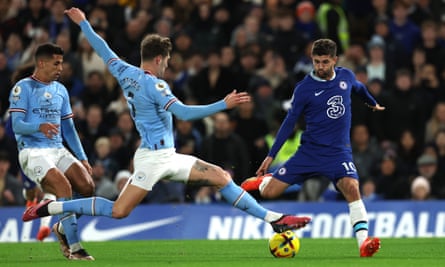 Maybe he can, maybe he can't. It was a positive from Thursday's loss against Manchester City. Chelsea threatened on the break. It could have been a different game if Carney Chukwuemeka's shot had gone just inside the post instead of against it, or if John Stones hadn't timed the first half on Christian Pulisic so perfectly. They put City under pressure late on. But just as much, there was a half-hour period at the beginning of the second half, where City were clearly superior.
However, context provides many caveats. Chelsea were without Reece James and Ben Chilwell and the back-up backs are nowhere near their quality. César Azpilicueta is 33 and struggling to get up and down, while Marc Cucurella is suffering from what is presumably a crisis of confidence: nervous on the ball and vulnerable to players running at him, he looks nothing like the player he was at Brighton. N'Golo Kanté, Wesley Fofana and Mason Mount are also injured, and Chelsea had lost Raheem Sterling and Pulisic during the first quarter of Thursday's game.
The rest of the squad, partly because of the legacy of the Roman Abramovich era, partly because of the confusion of sanctions and partly because of a mysterious summer transfer round overseen by Tuchel who was sacked almost as soon as it was over, is a bizarre hotch-potch which lacks coherence. The game was tipped City's way by two breaks and the winner created and scored by two other substitutes. When Potter turned to the bench in the second half, he ended up bringing in a pair of players with one Premier League start between them.
These will be difficult times for any manager, regardless of previous experience: it may be that the problem is not Potter but Chelsea. And the question that always lurks just out of reach is that if Potter isn't given time to figure this out, if he's dismissed before he's had a chance to rationalize the squad and learn about this different level, how can any coach ever come through the British game and get to the top?