Flurry of Drone Strikes Hit Russia as TV, Radio Gets Hacked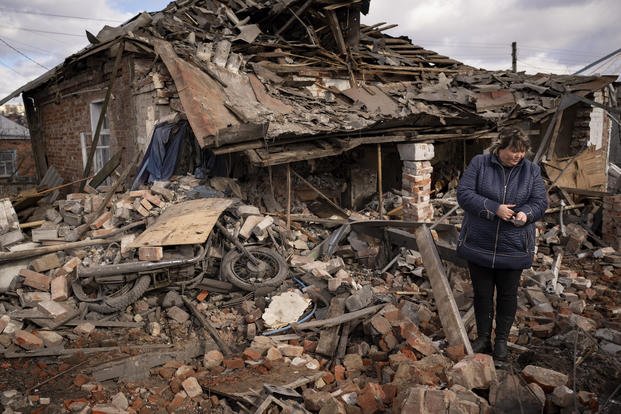 KYIV, Ukraine – Regional officials in southern and western Russia reported a series of drone strikes near the border with Ukraine and deep inside the country that caused no casualties but sparked a security uproar Tuesday, as the war with Kiev entered its second year.
The hacking of Russian TV channels and radio stations, and the temporary closure of the airspace around St. Petersburg's airport, fueled suspicions that Kiev could be behind the disruption.
Ukrainian officials did not immediately claim responsibility for the attacks, but they similarly avoided directly acknowledging responsibility for previous attacks and sabotage while stressing Ukraine's right to hit any target in Russia after the full-scale invasion that began last year.
A flurry of drone strikes Monday night and Tuesday morning targeted regions inside Russia along the border with Ukraine and deeper into the country, with one drone crashing just 100 kilometers from Moscow, according to local Russian authorities.
A drone fell near the village of Gubastovo, about 100 kilometers (60 miles) southeast of Moscow, Andrei Vorobyov, governor of the region surrounding the Russian capital, said in an online statement.
The drone did not cause any damage, Vorobyov said. He did not specifically describe the drone as Ukrainian, but said it was likely aimed at "a civilian infrastructure object."
Photos of the drone showed that it was a Ukrainian-made type. It reportedly has a range of up to 800 kilometers (nearly 500 miles), but is unable to carry a large payload of explosives.
Russian forces shot down a Ukrainian drone over the Bryansk region early Tuesday, local governor Aleksandr Bogomaz said in a Telegram post. He said there were no injuries.
Three drones also targeted Russia's Belgorod region on Monday night, with one flying through an apartment window in the capital of the same name, local authorities reported. Regional Governor Vyacheslav Gladkov said the drones caused minor damage to buildings and cars, but no casualties.
The Russian Defense Ministry said Ukraine used drones to attack facilities in the Krasnodar region and neighboring Adygea. It said the drones were downed by electronic warfare means, adding that one of them crashed into a field and another deviated from the designated flight path and missed an infrastructure it was supposed to attack.
While Ukrainian drone strikes on the Russian border regions of Bryansk and Belgorod located north of Ukraine's Sumy region are not uncommon, the hits in the Krasnodar and Adygea regions further south are notable.
A fire broke out at an oil depot in Russia's Krasnodar region on Monday, the Russian state-run RIA Novosti agency reported. Russian Telegram channels claimed that two drones exploded near the depot.
A drone also crashed overnight in a field in Adygea, which is about 600 kilometers east of Crimea, regional governor Murat Kumpilov said on Telegram. He said no one was injured in the attack, which damaged some farm buildings.
While some Russian commentators described Tuesday's drone strike as an attempt by Ukraine to show off its ability to strike deep behind the lines, stoking tensions in Russia and rallying the Ukrainian public, some Russian war bloggers described the attacks as a possible repetition of a larger, more ambitious attack.
Last year, Russian authorities repeatedly reported shooting down Ukrainian drones over annexed Crimea. In December, the Russian military said Ukraine used drones to hit two long-range bomber bases deep inside Russian territory.
Separately, the local government of St. Petersburg — Russia's second-largest city about 1,300 kilometers (800 miles) north of the border with Ukraine — said early Tuesday it was temporarily suspending all flight departures and arrivals at the city's main airport, Pulkovo. It gave no reason for the move.
Hours earlier, unconfirmed reports on the Russian social network Telegram referred to airspace over St. Petersburg being closed and to overflights by Russian warplanes. It was not immediately clear whether this was linked to the alleged increase in drone strikes in Russia's south.
The Russian military said its air defense forces in western Russia were conducting exercises for the "detection, interception and identification" of enemy targets in airspace, and in coordination with civil air traffic services in an emergency.
The Russian Defense Ministry did not specifically mention St. Petersburg, but the statement appeared to explain the temporary closure of the airspace.
Kremlin spokesman Dmitry Peskov declined to comment on the situation in St. Petersburg, urging journalists to wait for details from the country's aviation authorities or the military.
However, he noted that President Vladimir Putin had "full information" about the situation.
In a speech to Russia's main security agency, the FSB, Putin urged the service to tighten security at the border with Ukraine.
Russian media reported on Tuesday morning that an air alert in several Russian regions interrupted the programming of several TV channels and radio stations.
Footage posted by some news sites showed TV sets showing a yellow sign with a person heading to a bomb shelter, with a woman's voice repeating: "Attention! Air raid alert. Everyone should go to a shelter immediately."
Russia's Emergencies Ministry said in an online statement that the announcement was a hoax "as a result of the hacking of the servers of radio stations and TV channels in some regions of the country."
Inside Ukraine, authorities said Tuesday that at least two civilians were killed by renewed Russian bombing in the southern city of Kherson and surrounding villages and 17 more were wounded in fighting over the past 24 hours.
The fiercest fighting continued to be in eastern areas of Ukraine, where Russia wants control of all four provinces it illegally annexed in September.
Ukrainian officials said Russian forces have deployed additional troops and equipment, including modern T-90 tanks, in those areas.
Meanwhile, satellite images analyzed by The Associated Press appear to show that a Beriev A-50 early-warning aircraft was parked at a Belarus air base shortly before an alleged attack by partisans there.
Images from Planet Labs PBC show the A-50, a late Soviet-era aircraft known for its distinctive rotodome above the fuselage, parked at the northern apron of Machulishchy Air Base near Minsk, the capital of Belarus, on February 19.
A lower-resolution image taken on February 23 shows a similarly shaped aircraft still parked there, although heavy cloud cover has blocked all images since.
The Belarusian opposition organization BYPOL claimed that the guerrillas damaged the A-50 in an attack on Sunday.
The Associated Press has not been able to independently confirm the alleged attack, which both Belarus and Russia have yet to acknowledge.
—–
Jon Gambrell in Dubai, United Arab Emirates, contributed.
View the full article
© Copyright 2023 Associated Press. All rights reserved. This material may not be published, broadcast, rewritten or redistributed.