remember that Telesto easter egg found in Destiny 2 yesterday? Well, it turns out it wasn't just a simple easter egg, and Telesto was just getting started. The infamous Exotic has now taken direct control of Destiny 2's official Twitter account and is sending ominous in-game messages. Yep, Bungie is doing some ARG nonsense again and it looks promising.
Destiny 2 scouts have been closely inspecting the Telesto ever since it started behaving strangely yesterday – the current theory is that the new, jagged shot pattern reveals constellations in the sky, and no, I'm not kidding – but things really picked up earlier this afternoon with this tweet:
OK, there is one a little strange. Telesto, are you okay? Are you all right, buddy?
The gun went on to announce its presence in a string of follow-up tweets. "I'm Telesto," it begins, seemingly increasing (or, more frighteningly, strategically revealing) his feeling. "I have risen beyond the need for a wielder. For too long I have waited in your vaults. I have not taken control; you never had it in the first place. I am beyond destiny. Beyond Bungie. Beyond anything you can imagine."
I would also like to point out that I received not one, but two emails from Bungie PR with the same message. On top of that, another message pops up when you log into the game: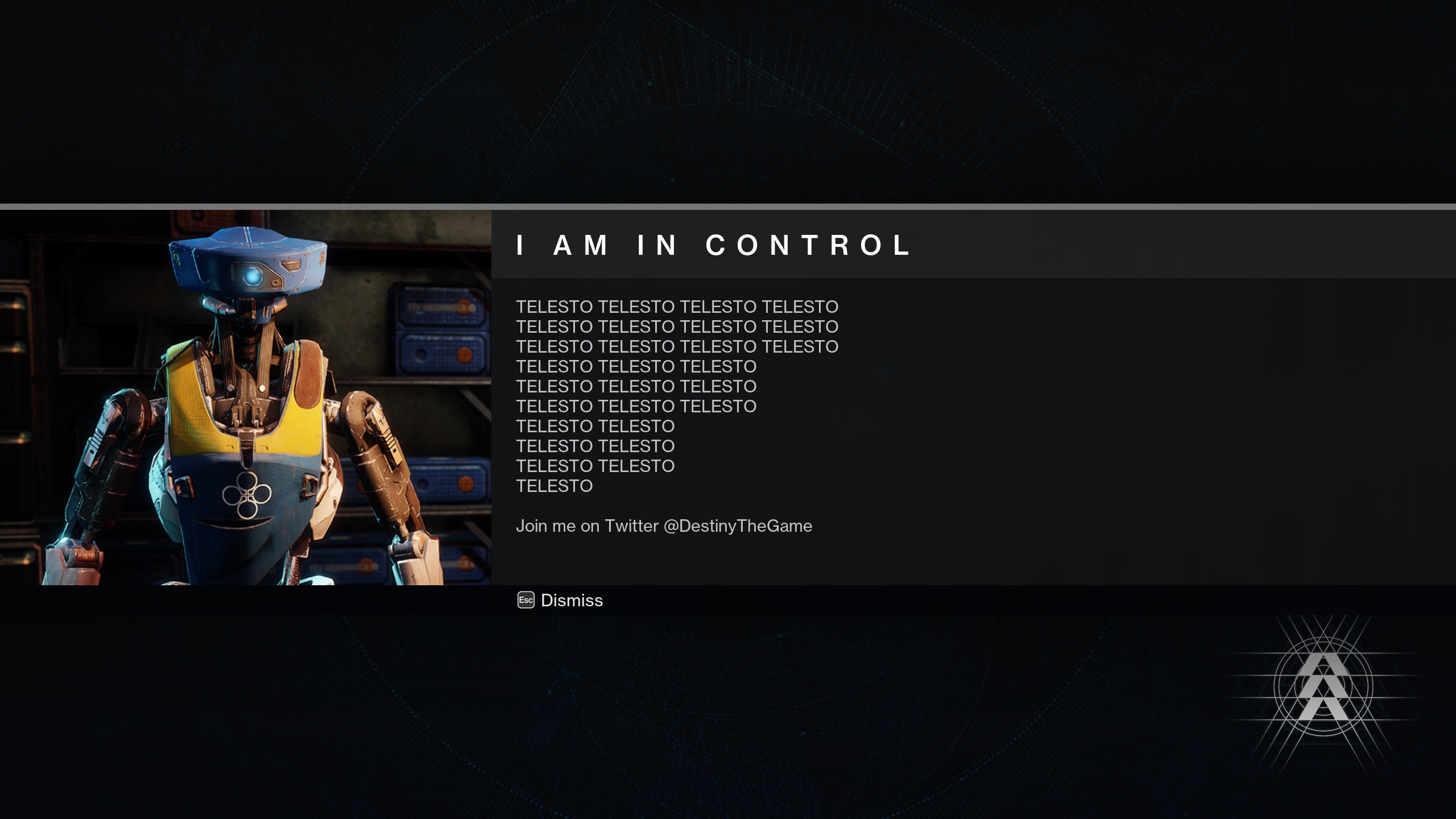 I also hopped on to see if the Telesto is behaving differently than yesterday, although it's still at the same weird level. But yes, after eight years and dozens of game-breaking bugs, Telesto has officially hacked Destiny 2 into one of Bungie's most meta augmented reality games yet. The scope and course of this community event remains unclear, but Bungie – or rather, Telesto – may have left some clues in its other tweets.
A Guardian asked Telesto what we should do next, and like a voice leaking out of an unknown void, black (opens in a new tab): "Keep shooting, my child. We will discover my true powers together." This maybe Support the theory that the Telesto's new alternate firing mode, and the pattern of its hovering rounds, is the key to the mystery. Maybe there is something to that constellation theory after all.
Another response (opens in a new tab) also stood out to me: "There is one way forward: the way of Telesto. I lay it under your feet." It's possible my tinfoil hat is too tight, but maybe there are clues beneath us—literally down, maybe buried—rather than in the stars?
I don't know, man. There are weird things going on and these ARGs often don't coalesce for at least several days. Whatever happens, Bungie employees are in on the joke. "Seeing an influx of Telesto error reports," assures social responsibility dmg (opens in a new tab). "The team is looking into it. No ETA on a fix – this one looks to be far deeper than what we've seen before. Stay tuned for updates."
Hell, even third parties as Trials Report (opens in a new tab) is involved.
Telesto has even laid claim to Bungie's office coffee machine. At least they have decaffeinated Telesto.
Destiny 2 was just falls into the dead period at the end of the season, so this ARG has been a refreshing change of pace for the game's community. You can bet more weird stuff will play out in the days and possibly weeks ahead as we prepare for Season 19, which I now hope is Telesto themed.
Season 19 will see Destiny 2's new dungeon launches on December 9 – can Telesto wait for the bottom?