Best VPN service 2023: from NordVPN to Surfshark, and everything in between
Looking for the very best VPN service to use? You are in the right place. Whether you're looking for complete online anonymity, or want to unblock region-restricted content on video streaming services (not that we condone it), there's no shortage of premium, quality VPN services on offer.
The problem is that there are almost too many options out there, and it can be a bit tiring to look through them all to choose the one that is best for you. But don't worry, because we've done everything for you. So sit back, relax and feast your eyes on our roundup of the best VPN services for 2023. Happy (anonymous) browsing.
What is a VPN?
If you already know the answer, feel free to keep scrolling. But if you want a summary, no problem. In short, a VPN is a service that allows you to spoof your location online, by redirecting your internet connection through the VPN service's servers around the world.
An example would be using a VPN to make it look like you're in the US so you can watch Netflix content that isn't available in the UK. Again, we don't officially condone this practice, but it's just one example of a common use case.
If you're traveling abroad to certain countries like China – where some apps and websites like Facebook, Instagram and Google are blocked – VPNs can also act as useful tools to unblock these restricted services so you can continue using your favorite apps, while you also keep in touch with people back home.
What is the best VPN?
Most VPNs have their various pros and cons (everything from price and ease of use to security options and other features), but for most, the ones that strike the best balance and are beginner-friendly are the likes of NordVPN, ExpressVPN, and Surfshark. Without further delay, here is our list of the best VPN services. All prices and information are correct at the time of writing and will be updated regularly.
NordVPN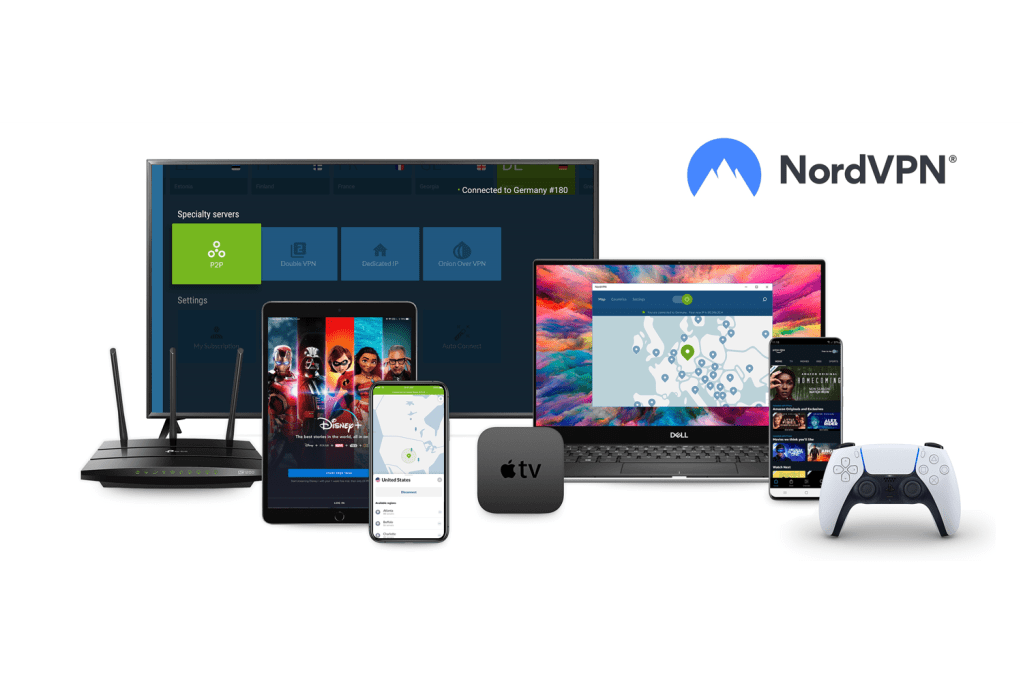 Number of servers: 5500+ | Server Locations: 80+ | Maximum number of devices supported: 6
Benefits: Great security features | Fast speeds
Disadvantages: Some problems with the user interface
One of the most recognizable VPNs in the game (thanks in part to relentless YouTube ad campaigns over the years), NordVPN has won over users with its formidable security options, including a feature that sends your data through two separate VPN servers for a double dose of security .
If that wasn't enough, you also have the ability to route traffic over the Tor network, in addition to KEv2/IPsec, OpenVPN, PPTP, and L2TP protocols, along with a kill switch. Nord's service is also fast and solid, with a 30-day money-back guarantee and 24/7 support if needed.
As with almost all the best VPN service options, the multi-year plan offers the best value for money, provided you want to continue using the services after the first 30 days and don't mind parting with a larger upfront fee.
ExpressVPN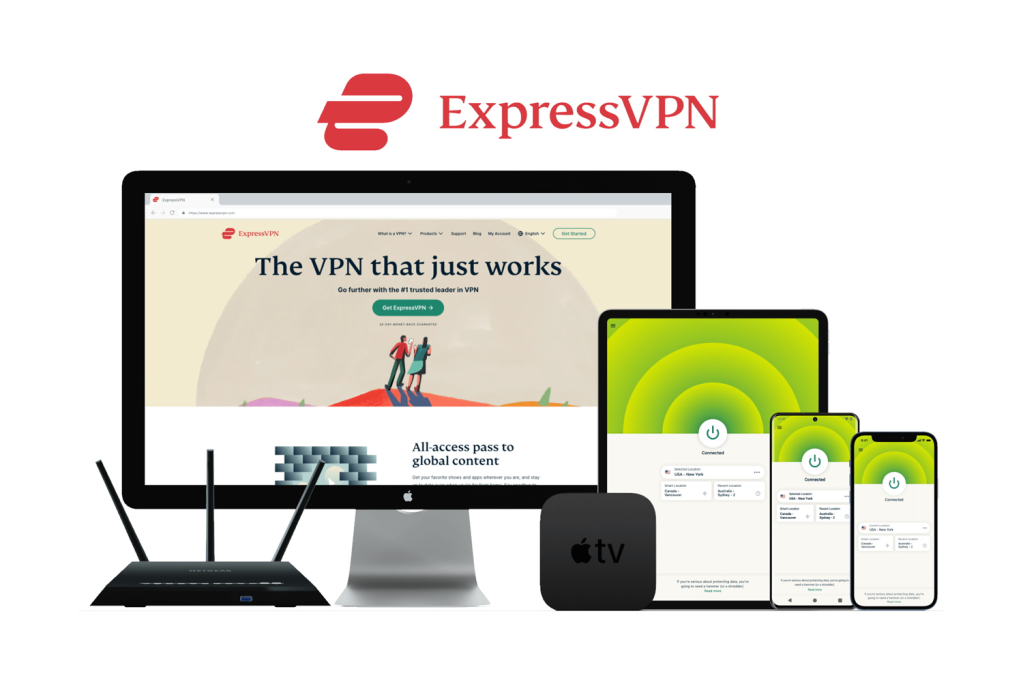 Number of servers: 3000+ | Server Locations: 160 | Maximum number of devices supported: 5 | Rolling monthly price: £11
Benefits: Useful Windows-specific features | Very high speeds
Disadvantages: More expensive than most
Express VPN is one of the best overall VPN services, and for good reason. First, it has 160 VPN locations spread across 96 different countries, with superb server performance across the board, even in far-flung locations.
The Windows app itself is nicely polished and packed with useful features like server recommendations, different protocols and kill switch options. Another benefit is the ability to control things directly from browser extensions, further streamlining the experience.
If the server changes automatically, which can often be the case when using a VPN, you'll be none the wiser, as the connection itself won't drop. Throw in strong encryption, security protocols, and no logging of data, connection IPs, and web activity, and you've got one of the best options out there, complete with 24/7 live customer support.
Surfshark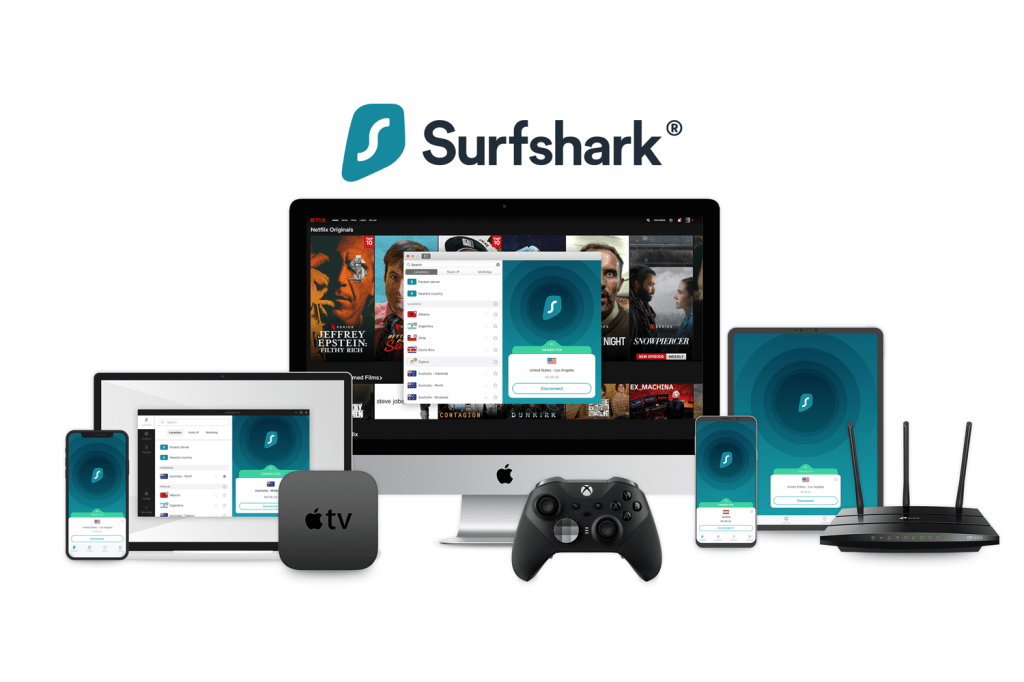 Number of servers: 1700+ | Server Locations: 100+ | Maximum number of devices supported: Unlimited | Rolling monthly price: £10.67
Benefits: Good value for money | Unlimited number of units
Disadvantages: May be a bit basic for experienced users
Surfshark offers excellent value for money, especially if you commit to more than a year of service, which, as you'd expect, significantly reduces the overall cost. Not only that, but you can use as many gadgets on the service as your hands can handle, thanks to its generous unlimited device policy. Not bad.
Easy to set up, you'll be surfing the web anonymously in no time, with decent speeds and plenty of security options for peace of mind, including a choice of OpenVPN, IKEv2 and Shadowsocks security protocols, private DNS, AES-256 encryption, and a kill switch for those moments when your connection drops.
It may lack the more complex settings that power users might be looking for, so if you're a seasoned tinkerer who likes to delve into settings and fine-tuning options, you might want to look elsewhere. However, for most people this is an ideal starter service, especially when you take into account the 30-day money-back guarantee.
Hotspot Shield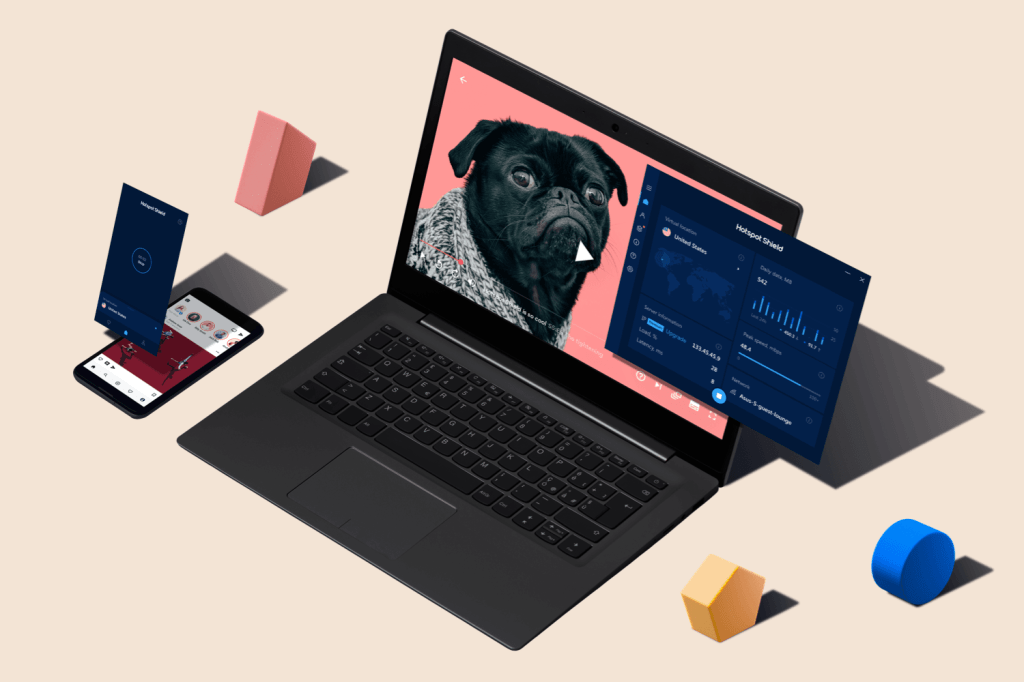 Number of servers: 3200+ | Server Locations: 130+ | Maximum number of devices supported: 5 | Rolling monthly price: £10.99
Benefits: Fast Steaming Access | Many places | Fantastic performance
Disadvantages: The maximum number of supported devices may be too low for some
If speed is your priority, look no further than Hotspot Shield. Winner of the world's fastest VPN, it has been confirmed to offer lightning-fast speeds, making it an ideal choice for power users, gamers and viewers alike.
Unlimited HD and data streaming means you don't have to pace your activities either, while built-in encryption, malware, phishing and identity theft protection are extra features that sweeten the deal.
Although it only supports up to five devices per plan, there's 24/7 live chat support available — but if you're planning to use a whole bunch of devices on a single plan, you might want to look elsewhere.
CyberGhost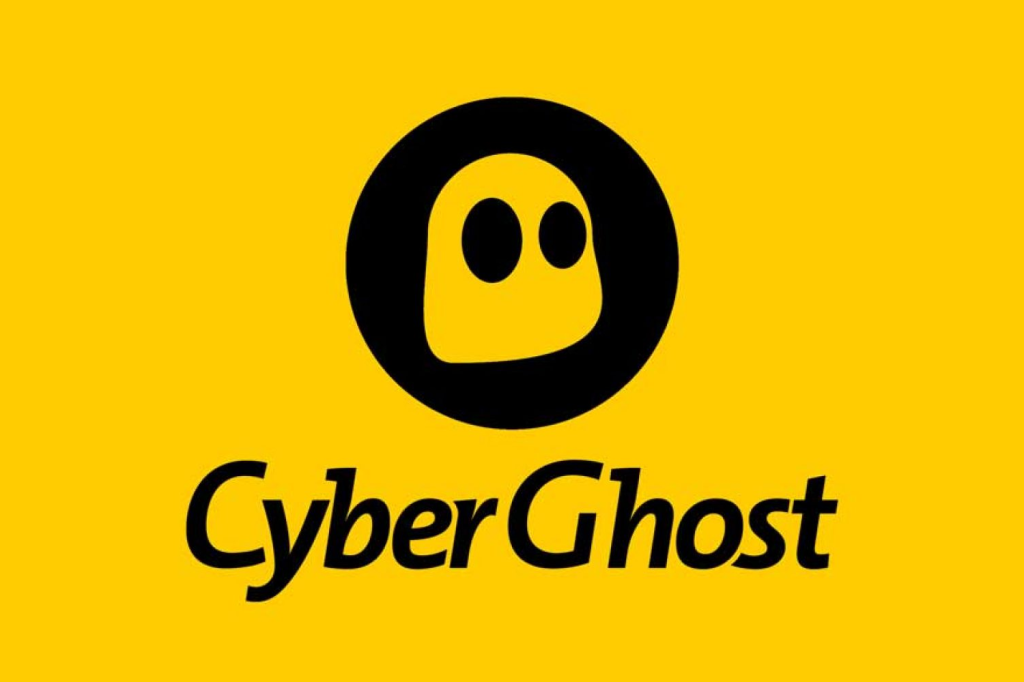 Number of servers: 8900+ | Server Locations: 110+ | Maximum number of devices supported: 7 | Rolling monthly price: £10.89
Benefits: Large number of servers | Many fine tuning options available
Disadvantages: The support could be better United Kingdom Disney+ and Netflix unavailable
CyberGhost, like ExpressVPN, is able to quickly and easily connect to different servers, with a variety of security protocols offered along with 256-AES encryption, a kill switch, an ad blocker, and a strong privacy policy.
The service offered is fast, thanks to a decent amount of servers around the world, although certain features like ad blocking can occasionally slow things down a bit. The app itself is packed with features, allowing more comfortable users to tinker to their heart's content, although VPN greenhorns should feel comfortable too.
CyberGhost also offers a fairly generous 45-day money-back guarantee for subscription plans of six months or more, while the one-month rolling plan still offers a reasonable 14-day money-back guarantee.
IPVanish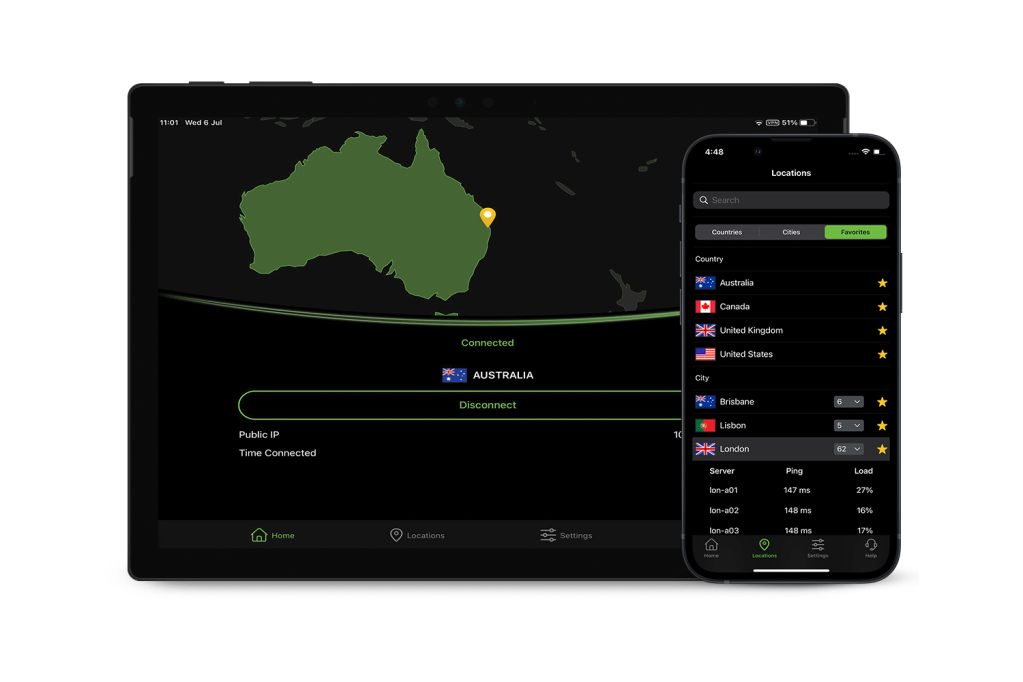 Number of servers: 2000+ | Server Locations: 75+ | Maximum number of devices supported: Unlimited | Rolling monthly price: £9.99
Benefits: Great app | Many functions
Disadvantages: May have a learning curve for some
The aptly named IPVanish certainly fulfills its mission of boing one of the best VPN service options out there. It has an excellent, polished Windows app that is full of settings and features specially designed for PC users, with basic and advanced settings available for all user levels. It is an ideal choice for P2P traffic usage, which includes torrenting and file sharing services.
From download speed graphs to a Quick Connect menu, a whole host of features are available in a user-friendly way, combined with strong speeds and solid security, including a kill switch, 256-bit encryption, a no-logs policy, as well as a number of other security protocols.
Some of the features may not be on by default, meaning you may have to dig around and find your feet, but with a little time, power users will soon find their feet and feel at home – especially if you take into account the additional languages ​​on offer.