A new dessert place selling school cake and custard is coming to Manchester
Food drink
Plus cornflake tarts, hot fudge brownie sundaes and pancake stacks.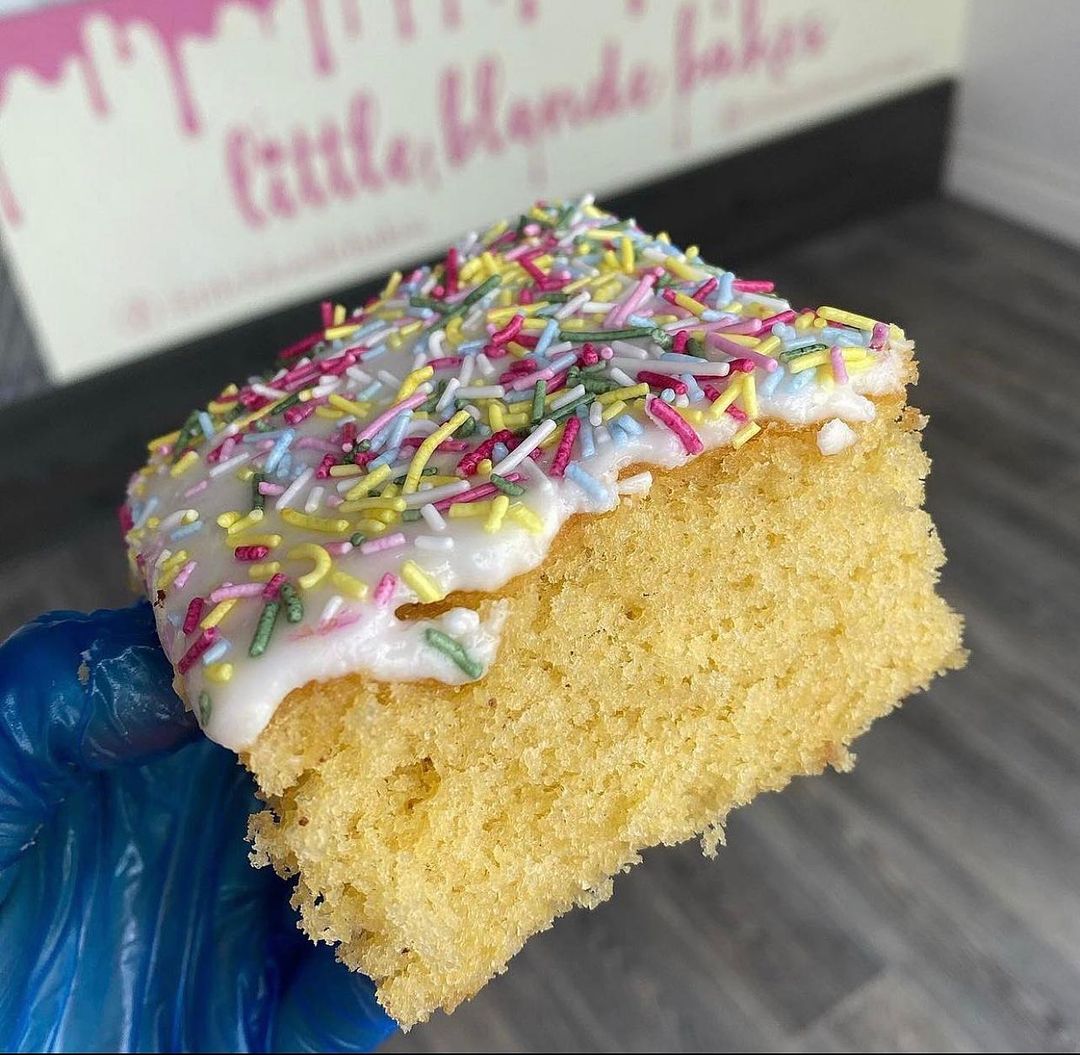 A new dessert place selling school cake and custard is coming to Manchester and we're already a bit obsessed.
Called Little Blonde Bakes, it opens this Friday in Ancoats with a menu of comforting winter warmers, including school cakes with sprinkles and cornflake tarts, served with a generous dollop of warm custard.
Those looking for a classic hit of nostalgia won't be able to resist a slice of old school cake and custard, while the more adventurous among us will surely be tempted by the old chocolate cake, served with a bright green mint custard.
Elsewhere on the menu, you'll find cornflake tarts (again served with a big pot of custard) along with a long list of custom pancake stacks, pancakes, ice creams and milkshakes filled with sweet store favorites like white Kinder Buenos, Biscoff, Nutella and more.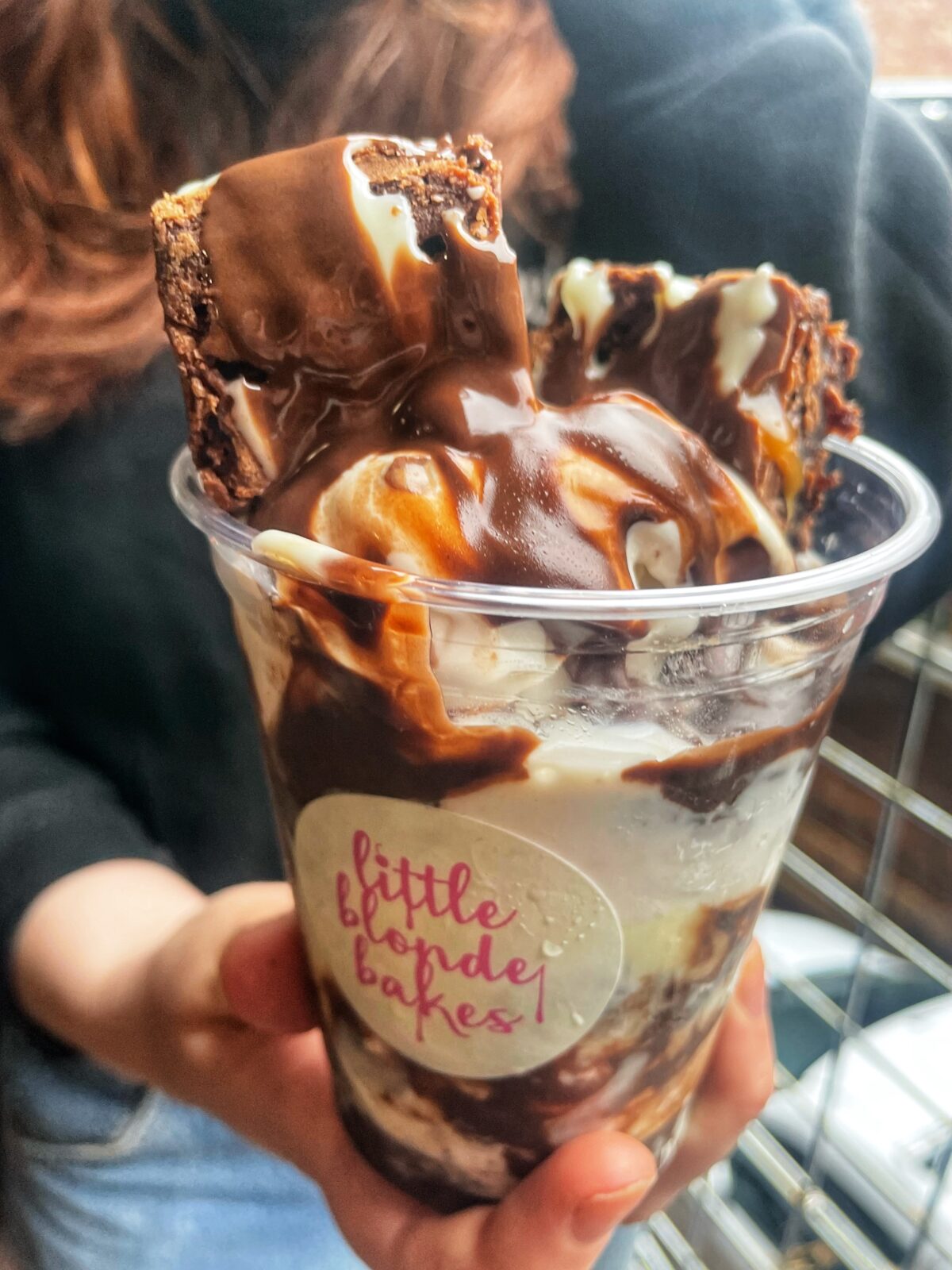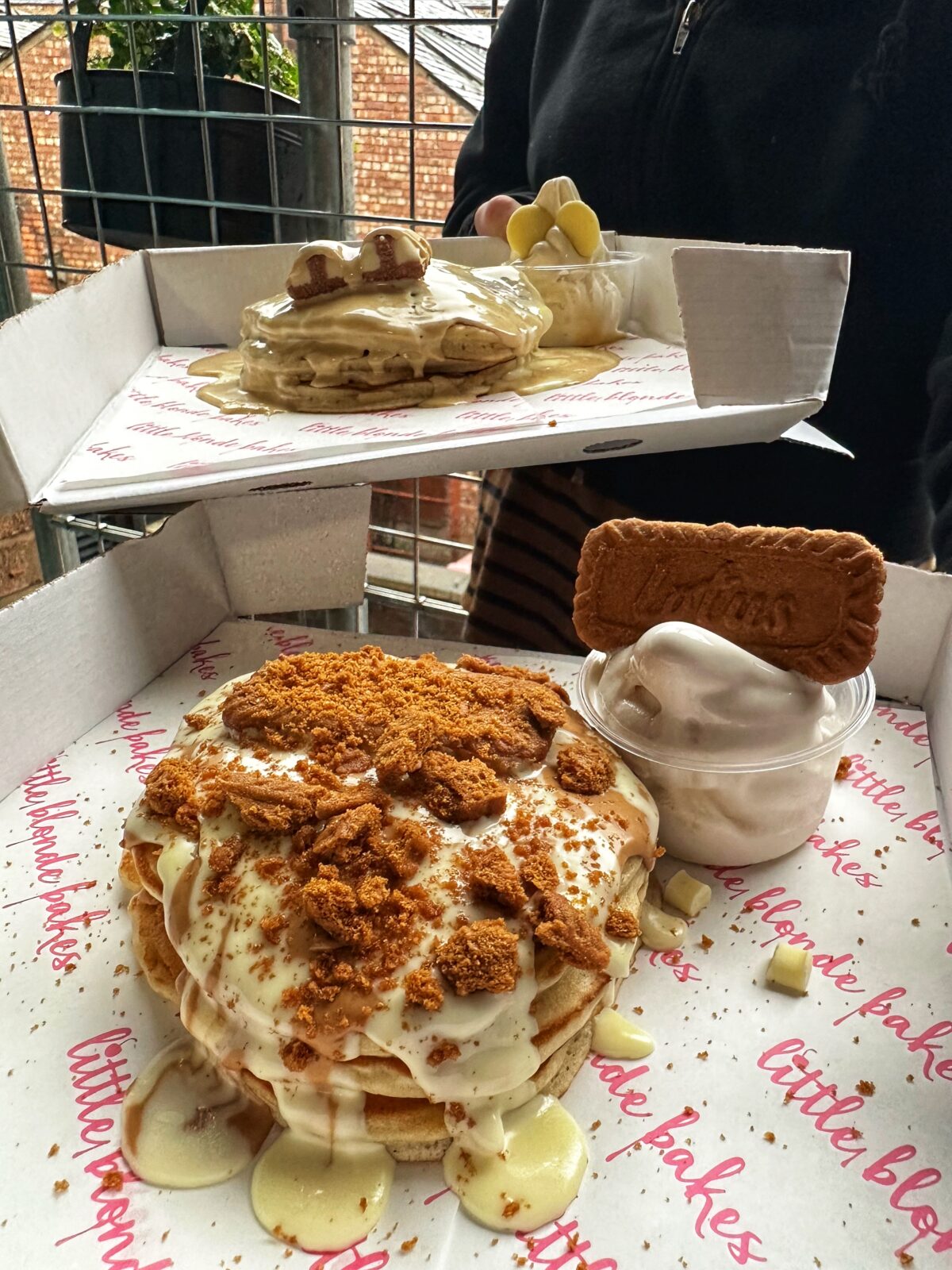 Launched by baker Francesca Harrison, who hails from Ramsbottom, she said The Manc that she has been baking for six years – first at home, before moving to open a cafe with her mother Jayne in Bury.
The couple first started their cake business in 2016, selling bespoke cakes, cupcakes and blondies from their home kitchen, before opening their own site in Bury.
Now Francesca is branching out on her own with her own cake and dessert business – taking over the former Lazy Tony's Lasagneria kitchen on Radium Street in Ancoats.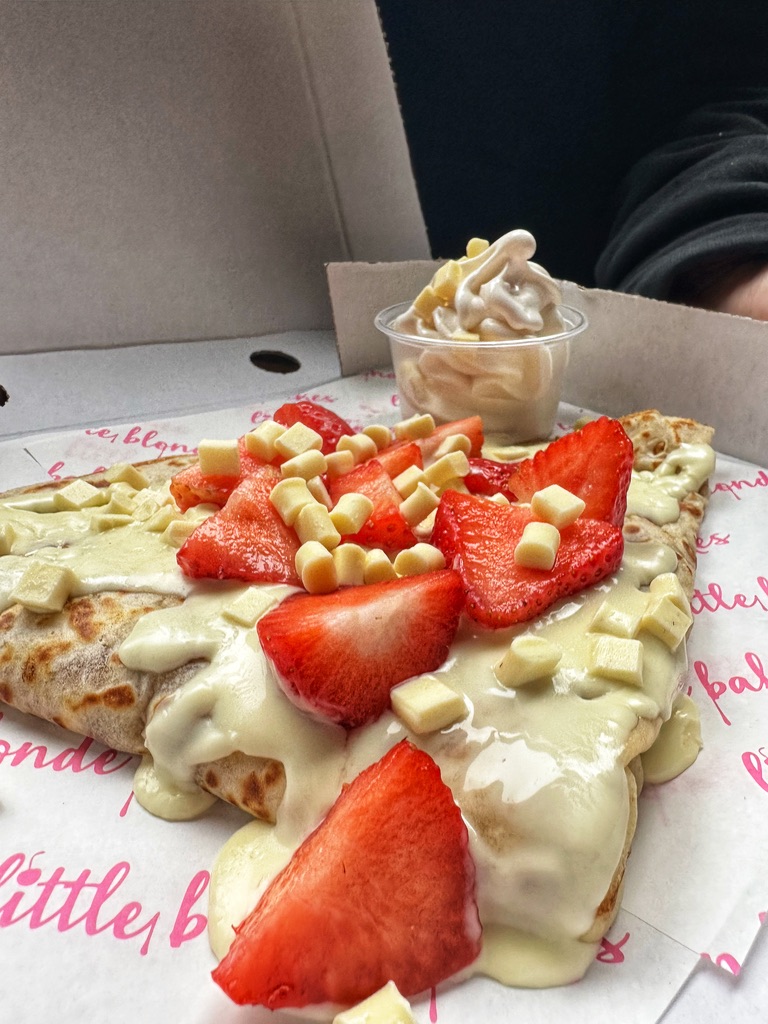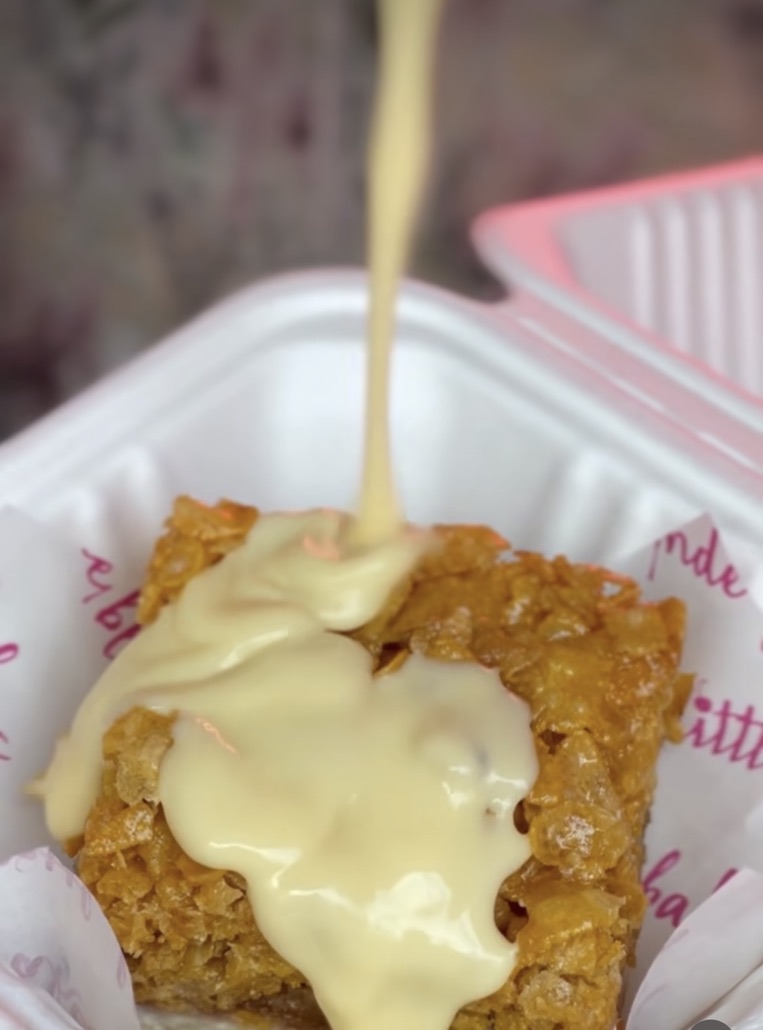 Read more: Stockport bar Cherry Jam held to ransom over Instagram account
Inside, she makes custom American and European pancakes on custom-made trays, before layering them on each layer with custom sauces and chocolate chips, because, she tells us, there's "nothing worse" than a dry pancake. We couldn't agree more.
She also serves ultra-indulgent sundaes filled with homemade hot fudge brownies and a variety of sauces, with other choices including warm cookies, bubblegum topped with Millions, Nutella Oreo, Kinder, Biscoff and Milkybar.
Due to open this Friday, her treats are priced from just £4 with sundaes starting at £4.50, milkshakes at £5.50, pancakes at £7 and pancake stacks at £8. All will be available for delivery exclusively via Uber Eats starting November 18.
To find out more and see her amazing bakes, head over to Little Blonde Bakes Instagram page here.
Feature image – Little Blonde Bakes
Food drink
Stockport bar Cherry Jam held to ransom over Instagram account

Georgina Pellant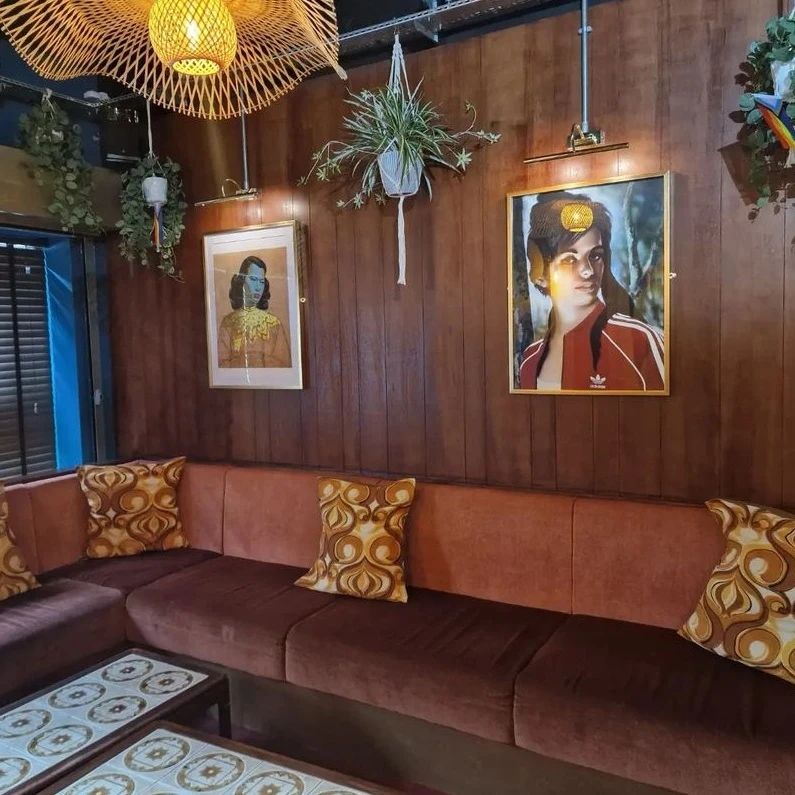 With rising costs hitting Manchester's hospitality industry hard, a bar boss has a stark warning for other venues after he was recently hacked on Instagram – and held to ransom by the hacker.
After receiving a message from an account that shared a mutual friend with his, Neil clicked on a link and entered his details thinking he was replying on Instagram.
He then saw his account blocked, before receiving a series of messages and Whatsapp calls from a hacker asking for £400 to restore his account.
A message from the hacker, sent to Neil's personal Whatsapp, read: "Hi. Sorry. I hacked your account, I'm doing this for money, if you want I can sell it to you for a small fee."
Neil Garner, founder of Stockport's cult favorite cocktail bar, Cherry Jam, said The Manc: "We received a message at the end of August telling us that we had broken a code, and since the message came from an account with mutual friends and colleagues on Instagram, I stupidly entered my details.
"Our account was then blocked and a few days later I received messages from a hacker, followed by several video calls on WhatsApp from people demanding that we pay them money to get the account back.
"We wrote to Meta and reported the problem, but we have not received a response since."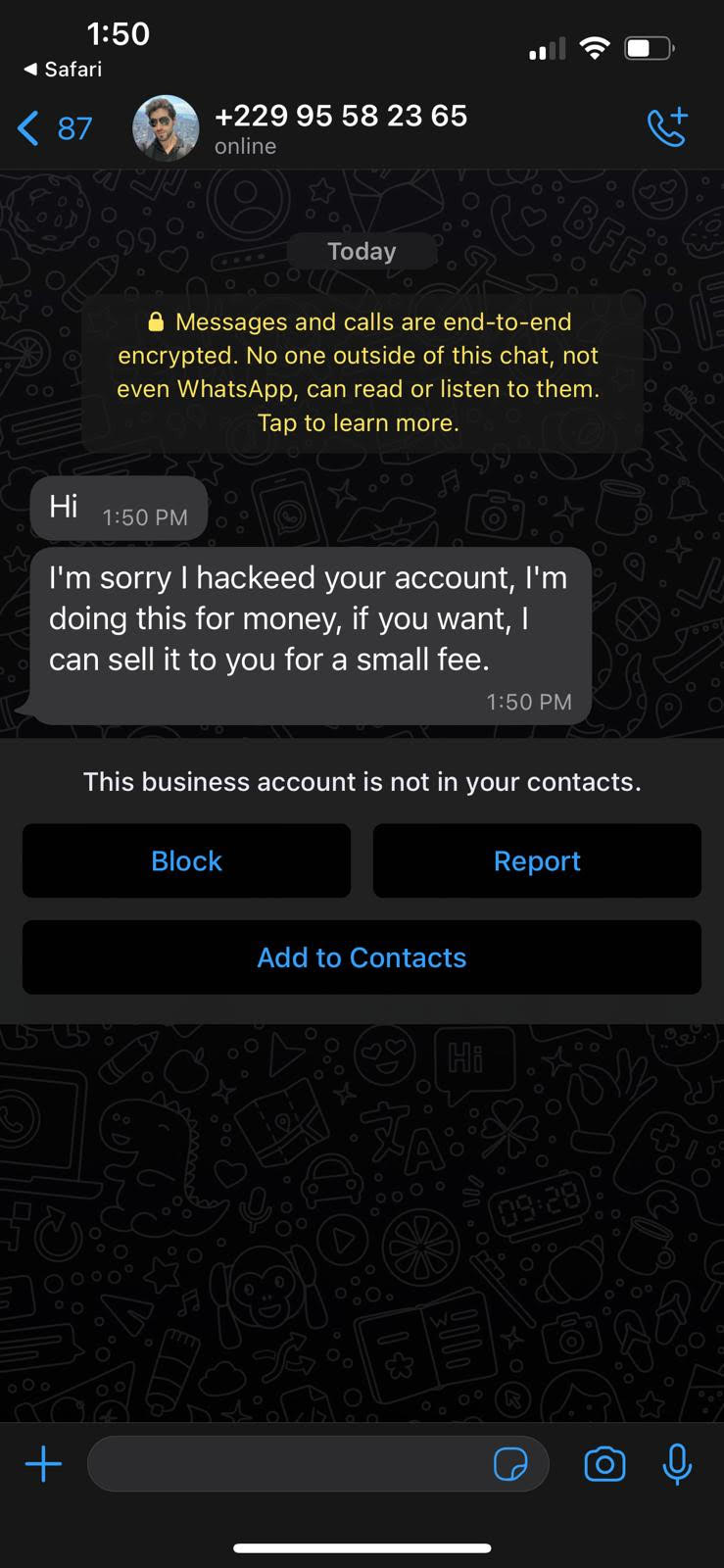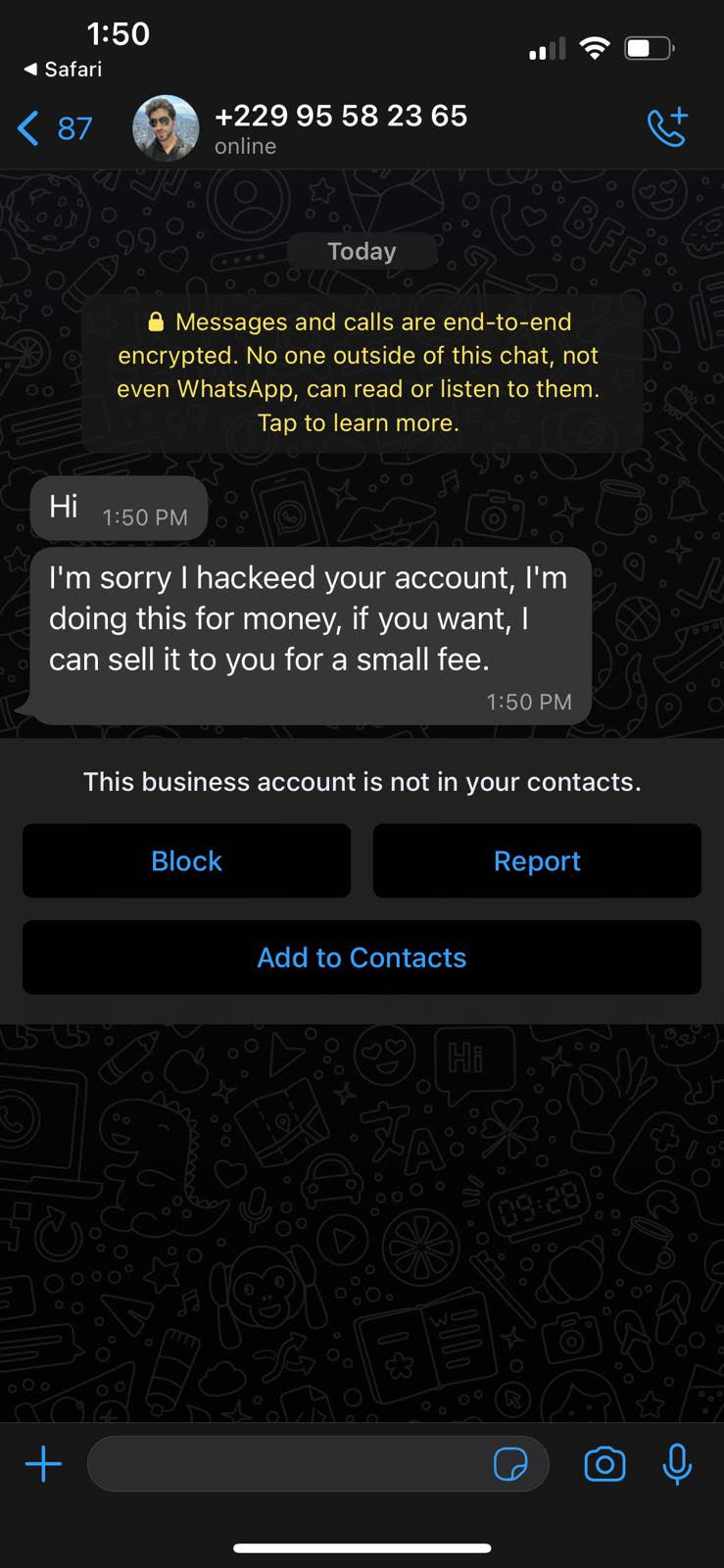 Neil continued: "We chose not to pay the hacker, of course, but this has had a massive effect on the business.
"As Instagram is our main marketing tool, we had gone from 6,500 local followers and supporters to zero overnight. Our sales dropped a whopping 30% the month we lost the account and our ticket sales took a big hit as well.
"With rising labor costs, energy bills, cost of living and a troubled economy this has been a big hit to our business, we will pull through, (we hope) but it has stopped all plans for growth and made it much more expensive to get word of upcoming events and promotions."
Read more: The Bull & Bear 'blown away' by friendly messages after announcing closure
Follow these tips to avoid being hacked on Instagram:
Always use a very strong password.
Make sure the phone number and email address associated with your account are up to date.
Use Instagram's two-step authentication and try to use a different email address for each Instagram account you run.
Ignore phishing messages and learn to spot fake ones. If you get ANY emails, texts or especially DMs including links, be careful and DO NOT click. Even if they are from a friend as they may have been hacked or their account duplicated or claiming to be from Instagram or Facebook. If in doubt, ignore and delete.
Avoid linking Instagram with other social media accounts and other third-party apps where possible.
Follow Cherry Jam's new Instagram account at @Cherry_Jam_Again for details on upcoming events – such as themed bottomless brunches and a special recessional menu of noughties fare at the Stockport location.
Feature image – Cherry Jam
Food drink
The Bull & Bear 'blown away' by friendly messages after announcing closure
Daisy Jackson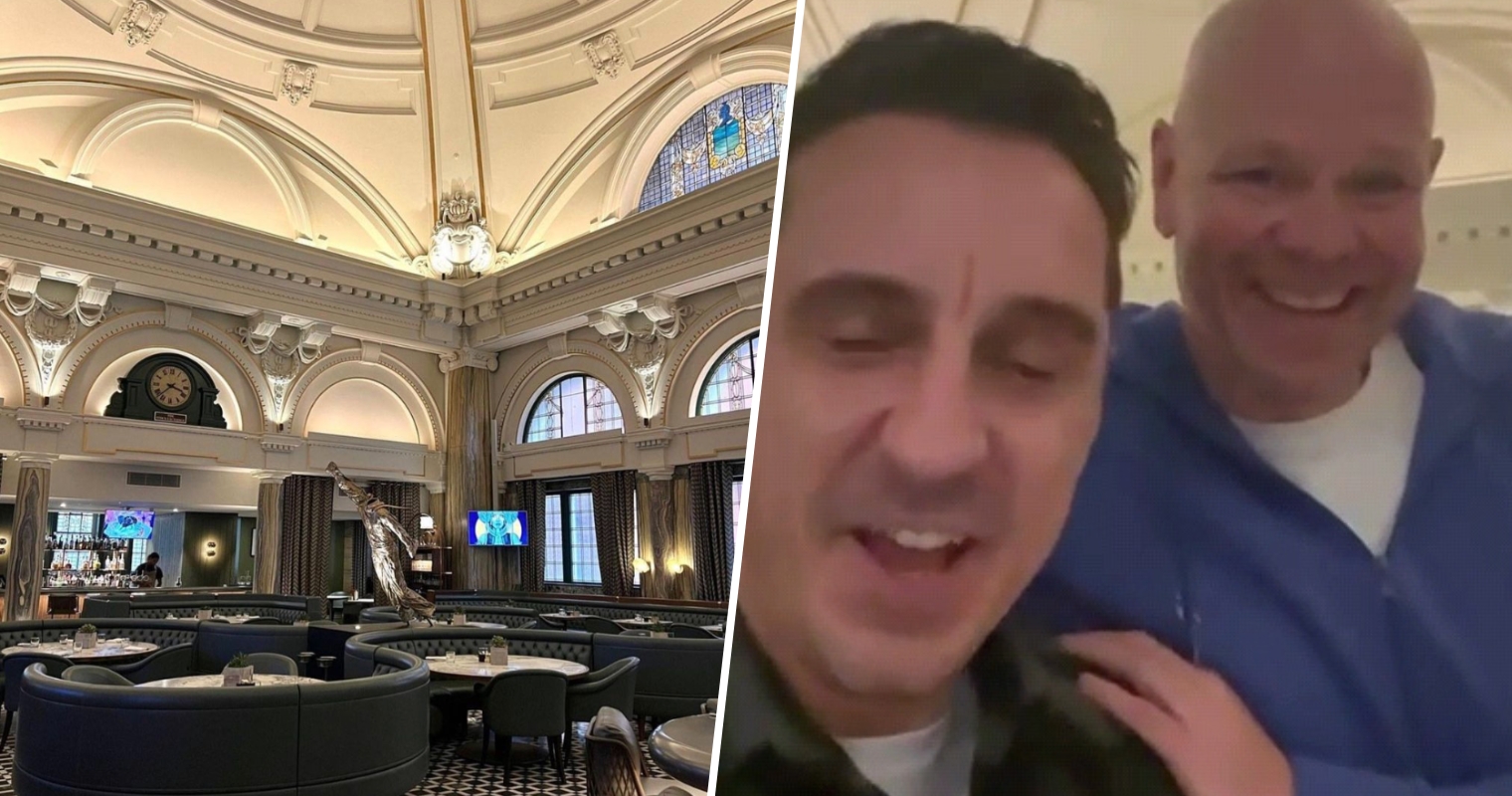 The Bull & Bear, the restaurant run by celebrity chef Tom Kerridge and Manchester United legend Gary Neville, has been "blown away" by the messages received since the closure was announced.
The acclaimed restaurant inside the stock exchange hotel announced last week that it would close in the New Year after the famous couple "jointly agreed to end our partnership".
Their Norfolk Street restaurant – Kerridge's first foray into Manchester – will close on New Year's Eve, they announced in a joint video statement.
Hundreds of people have shared their disappointment that the high-end eatery is bowing out of the city so soon.
The Bull & Bear has now released a new statement following the news, writing: "We've been blown away by your kind words regarding yesterday's announcement, but don't worry, we're still here for another 7 weeks, so make sure you try to come down for one last breakfast, lunch or dinner. We'd love to see you!"
IN video shared on the hotel's social media channelsthe pair appeared to be in good spirits as they explained the reason for their departure from The Bull & Bear.
Michelin-starred chef Kerridge insisted "there's nothing to fall out over" as he gave the former Manchester United legend a friendly shake on the shoulders.
You can watch their full video statement below:
One person commented in response: "Absolute legends!! And, a very worthy video."
Another wrote: "Absolutely gutted, my favorite place to eat in Manchester."
Someone else said: "Out of food is 🔥 must be ordered in before the end of the year!"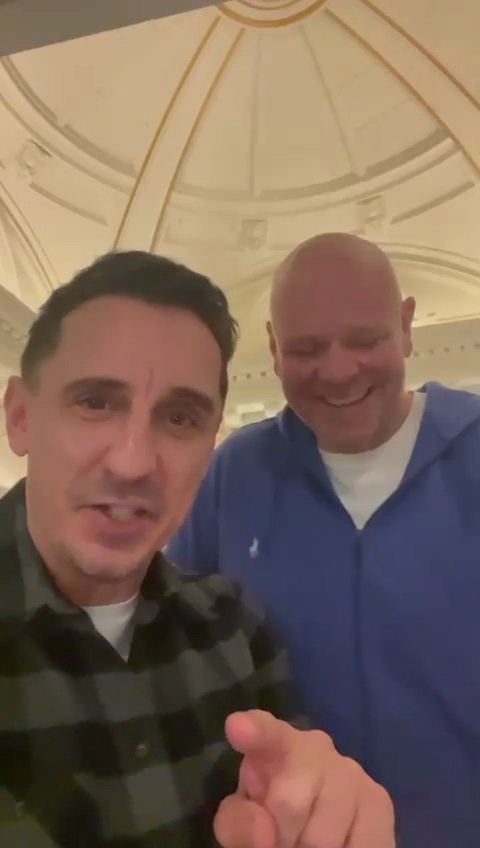 Gary Neville added in the video: "I've been able to wake up for the last three years every single day knowing that world class food is being served in this restaurant by an incredible team with Tom and Warren coming up to make sure that everything is looked after.
"Tom, thank you so much for the last three years, it has been one of the best experiences. I have enjoyed every minute of it."
To cut a long story short, we're going to announce this week that the partnership we have here with The Bull & Bear will end in January.
Read more:
Kerridge added: "From our point of view, we've been made to feel incredibly welcome, loved and a big part of the Manchester scene over the last three years."
He continued: "It is to ensure that the strengths of both businesses are taken care of. There's nothing to fall out of."
Kerridge and Neville said The Bull & Bear would be 'no more', but did not reveal more information about what will happen to the restaurant space.
Featured image: included