10 Best Free Weather Apps in 2023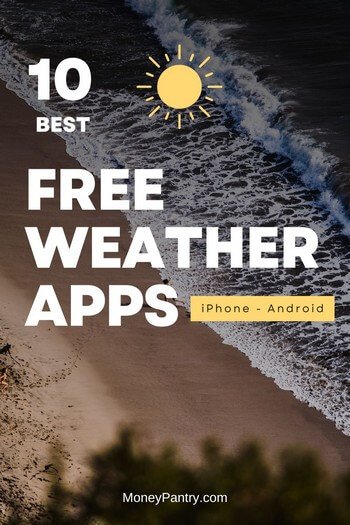 Long gone are the days when people had to take their chances with the weather since there were no meteorologists then.
And thanks to our modern technology, you don't have to limit yourself to TV and radio meteorologists; you can use some of the best free weather apps on earth!
There is nothing more convenient than taking out your smartphone to check the week's weather while eating lunch or riding the city bus.
You are probably unsure which ones to choose because there are so many to choose from. Luckily, I narrowed the list down to the top 10. Read about each app below and then download the one you like best.
I compiled this list in order of ease of use, exciting components, and convenience. (Note that some include optional charges for additional features.)
Do you easily need an extra $300+/month for free?


Panel Payday: Earn up to $75 per survey. They also pay up to $50/hour for mystery shopping. Join now!

Inbox Dollars: Paid over $57 million to members to watch videos, take surveys, shop and more. Get $5 Instantly!

Daily Goodie Box: Want free stuff? DGB will send you a box of free goodies (free shipping – without credit card). Get your box now!

Brand surveys: Get $1 instantly just for joining for free. Plus get paid within 48 hours with PayPal! Join Branded Surveys

Toluna: Earn PayPal, Amazon and Tango e-coupons for taking surveys (and product testing!). Join and get 500 bonus!

Swagbucks: Get paid to watch videos, shop online, take surveys and more. Join now and get $5 instantly!
10. Flowx
Are you a weather data geek? Check out Flowx!
In addition to weather forecasts, Flowx offers more than 50 data types as well as over 20 data sources.
You may be wondering why I put this at the bottom. To me, unless you are familiar with terms like "HRRR" and "NWW3", you would have a hard time understanding some of the data the app is analyzing.
Therefore, Flowx is best suited for big weather data lovers.
Price: Free; Purchase in the app
Availability: Android/iOS (iOS availability pending)
9. PlumeLabs
PlumeLabs is a great app for users concerned about air quality, especially if they suffer from allergies and other respiratory ailments.
It comes with an interesting gadget called Flow, which keeps track of any pollution levels outside and inside. Plus, you can use the PlumeLabs app to find the cleanest route to travel and get advice on how to protect yourself from pollution.
Why is it ranked #9? Because it is only limited to measuring air quality. Additionally, each Flow costs $199 and is only available to people participating in research projects.
8. Rain alarm
If you want to know when a rainstorm is about to hit your city, you should consider Rain Alarm.
Using real-time information, Rain Alarm alerts you when a storm is approaching, so you don't choose the wrong day for a bike ride or picnic. In addition, this app measures the proximity, intensity and area of ​​rain showers.
That said, Rain Alarm's only function is to warn of upcoming rain. Nothing wrong with that in itself. But if you prefer to cover other types of weather, you're better off with a weather app that offers more variety.
Price: Free; Purchase in the app
Availability: Android/iOS
7. Google Weather
Google Weather lets you see today's, tomorrow's and 10-day local weather forecasts. It also comes with Froggy, a cute amphibian mascot.
However, the app is somewhat complicated to access, which is why I'm adding it to #7.
Anyway, here are the instructions to get Google Weather:
First, tap on the Google search field.
Then type "weather".
Then tap the three dots to the right of the listed city and tap "Add to Home Screen."
A screen will appear. You can add the icon manually or press "Add automatically."
Bingo! You are ready.
6. Yahoo Weather
This weather app does a good job of combining beauty and data.
In addition to displaying information for today's, 5-day, and 10-day weather forecasts, Yahoo Weather displays beautiful day and night images that complement your location.
You can even check the weather in international cities like London, Paris and Tokyo.
5. Tomorrow.io
Tomorrow.io offers cool features for both businesses and consumers.
For businesses, this app includes the following:
The Tomorrow.io Platform: Comes with weather alerts, an interactive map with real-time data for upcoming weather, a timeline showing hourly alerts for up to two weeks and more.
Tomorrow.io Weather API: Comes with over 80 data fields to display information on categories such as rainfall, flood, fire and pollen.
Tomorrow.io Historical weather data: This component allows you to use data from past weather forecasts to find the best route to keep up with current business trends.
Tomorrow.io Air quality: Assesses air quality, risk levels for air quality, tracks pollen species, etc.
Tomorrow.io CBAM: Allows you to customize parameters, resolutions, coverage and locations to your liking so you can study global and regional weather forecasts.
Consumers can download Weather By Tomorrow, a "weather assistant" that keeps users updated on impending weather.
Price: Free for individuals; The price varies for companies
Availability: Android/iOS
4. The weather channel
It's really nice how the Weather Channel went from being just a cable channel to becoming a cable channel, a website, and an app.
Use it to view hourly, 10-day and monthly weather forecasts.
The Weather Channel app even provides news stories, an interactive radar and photo essays.
It is mostly free, but it will cost extra for premium upgrades.
Price: Free in-app purchases; Premium: $4.99/month or $29.99/year
Availability: Android/iOS
3. AccuWeather
AccuWeather offers a smorgasbord of information apart from hourly, daily and monthly weather updates.
Some of the features include news stories, radar/maps, videos and podcasts. In addition, there is a "Health and Activities" section, which alerts you to local weather conditions to find out how they affect your health, commuting and outdoor activities.
Choose the free version or pay a little more for the premium versions of AccuWeather.
Price: Free; Premium: $0.99/month or $8.99/year; Premium+: $1.99/month or $19.99/year
Availability: Android/iOS
2. WeatherBug
This is the kind of bug you don't mind having around.
WeatherBug allows you to check the local weather on a daily, hourly and 10-day basis.
It also includes traffic cameras, hurricane alerts, pollen level alerts, 20 weather maps and other great features.
Price: Free; Purchase in the app
Availability: Android/iOS
1. 1Be
I feel the 1Weather app is the best on this list for these reasons:
Unlike many weather apps, it allows you to view a 12-week precision forecast from the Weather2020 website.
Readable weather graphs
Current local weather forecasts for many cities around the world
Animated radar and severe weather alerts for US cities
Animated displays of the moon, sunset and sunrise phases
You can use the app to share weather information with your loved ones via text, email and social media.
And of course, the best part is that it costs nothing to use!
Price: Free; Purchase in the app
Availability: Android/iOS
Other weather apps to consider
Even if you've just read about the best free weather apps on this list, you might be interested in learning about other weather-related apps.
Here's a mix of free and paid apps to check out:
11. RadarScope
Weather radar app for individuals and businesses:
12. CARROT Weather
Weather app with a humorous touch:
13. Weather Underground
The first online weather service:
14. Today's weather
Easy to use local weather app:
15. YoWindow
Weather app that reflects local weather conditions:
16. Late crop
Weather app specializing in agricultural issues.
17. Weather Live
Live weather reports every hour.
18. Wowow
Ad-free app with weather-related snapshots.
19. Climate
Weather radar app.
20. Windy
Forecast visualization app.
Closing words
Going out without being well prepared can be a huge bummer. But with access to some of the best free weather apps out there, you'll never have to get caught in the cold (or rain) again.